Celebrating what makes living with a learning disability a superpower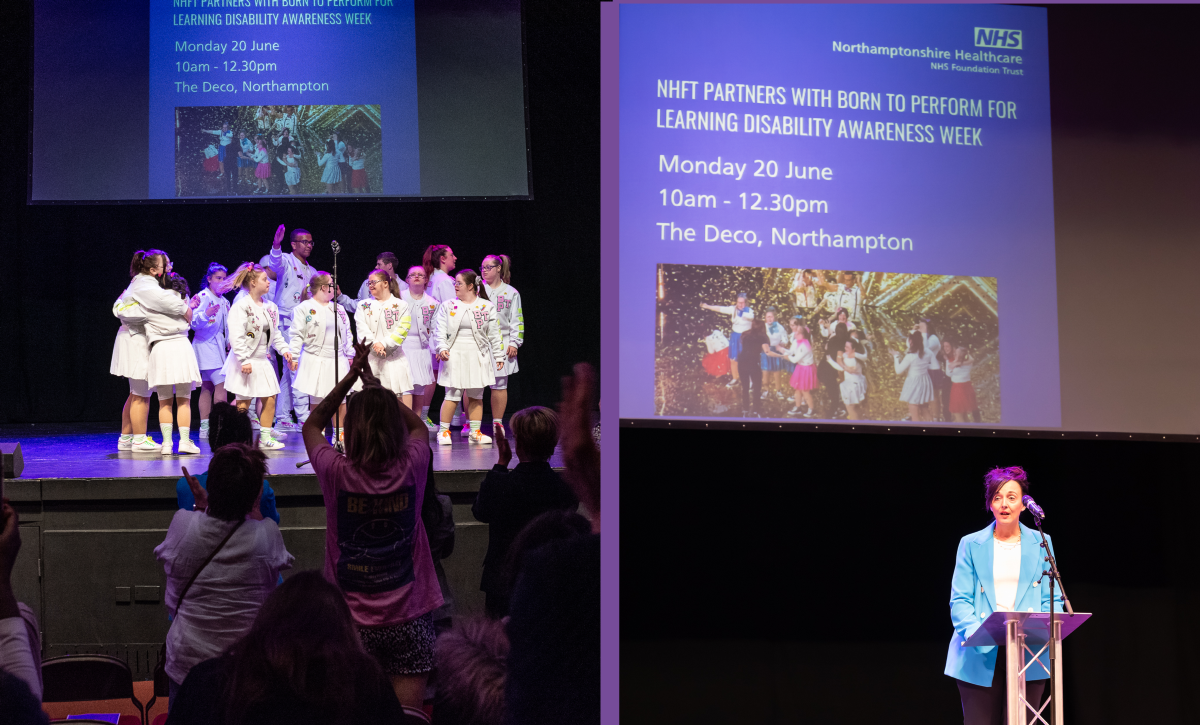 More than 120 people across Northamptonshire joined NHFT's Community Team for People with Learning Disabilities and Britain's Got Talent Golden Buzzer stars, Born to Perform, for a very special event yesterday (20 June).
The event, held at The Deco Northampton on Monday 20 June coincided with Learning Disabilities Awareness Week and provided people with the opportunity to hear from those who access NHFT's services about what life is like living with a learning disability.
Some of NHFT learning disability service users attend Born to Perform in Northampton in order to access music and drama based therapies. This amazing group featured on 2022's Britain's Got Talent and were so fantastic they received the iconic golden buzzer. NHFT were delighted that Born to Perform showcased their talents at the opening of the event.
The event was opened by Angela Hillery, Chief Executive of Northamptonshire Healthcare NHS Foundation Trust, followed by special performances from Born to Perform.
Charlotte, Director & Support Lead at Born to Perform Dance School, said: "We were so pleased to welcome NHFT and their service users to Born to Perform and raise as much awareness as possible for Learning Disability Week. Our students were thrilled to perform for everyone attending and have the opportunity to showcase their wonderful talents!"
Learning Disabilities Week aims to raise awareness of local and national services which support patients and their families & carers, as well as what it is like to live with a learning disability.
NHFT's services provide support and care for people across the county. Emilia Chitenhe, Operational Manager CTPLD at NHFT, said: "We are thrilled to be able to deliver a community event in support of Learning Disabilities Week. This awareness week provides a fantastic opportunity to highlight key local services which offer support for our communities, as well as showcase the brilliant work of Born to Perform and the difference they make.
"At NHFT we are incredibly proud of the care and support all members of the Learning Disability team provide. They truly live our Trust values and we are grateful for the opportunity to share their work, as well as hear from our amazing service users."
To find out more about the work of Born to Perform, and the work they do for people across the county visit borntoperformdanceschool.co.uk
For more details about support services across Northamptonshire delivered by NHFT, visit www.nhft.nhs.uk/learning-disabilities