Make a referral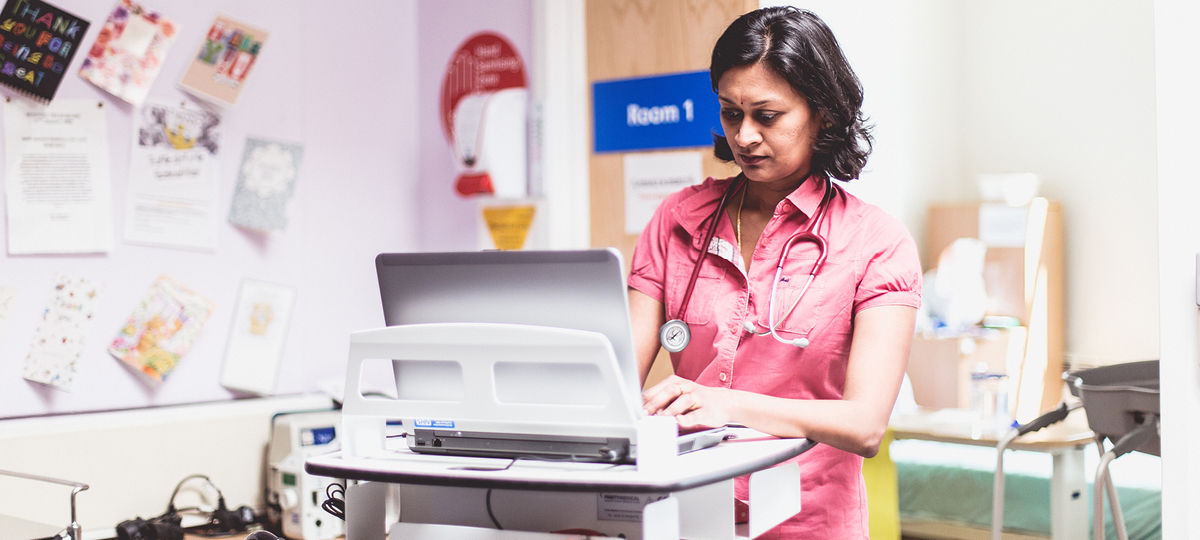 Our staff bank
Want to work flexible hours or top up your income? Then our staff bank is for you!
Why is Staff Bank so important to us?
Our staff bank provides a comprehensive temporary staffing service for NHFT, covering 4,000 shifts each month.
What does Staff Bank do?
Staff bank supports bank workers with a friendly dedicated on-site team who take care of services like bookings, recruitment and payroll. Through our extensive experience we are able to recruit and book bank workers into appropriate shifts quickly and efficiently. We also support training and development of new and existing bank staff, to ensure that staff keep up-to-date with new initiatives and changes within the Trust.
Why do people work for Staff Bank?
In our experience, people join Staff Bank for a wide range of reasons. The following are a few examples:
Excellent pay rates
Flexible work opportunities to suit
Access to NHS pensions
Access to training opportunities
To widen their interests and learn new skills
To gain new confidence in themselves and their abilities
To be part of a team
To help their career development
To improve patients' experience during their stay in hospital.
What should I expect if I join Staff Bank?
All Staff Bank temporary workers complete a Trust induction, which covers all of the Trust's mandatory training, together with a wide variety of other training packages that support and further your career.

Passport - All new Healthcare Assistants (HCA) and Qualified Bank Staff will automatically be entered into the recently developed 'Passport Process'. This is a competency-based portfolio that will assist in developing skills and knowledge, in order to become an effective member of the Staff Bank Team.
Preceptorship - We are now able to provide all newly qualified Bank staff with a preceptorship. A preceptorship supports all new registrants at band 5 (including those who have completed a return to practice course) with undertaking a period of preceptorship in their chosen clinical area.
There are a number of clear benefits to preceptorship which include:
Enhancement of quality care
Improved recruitment and retention
Developing competence and confidence in the new role
Supporting the concept of life long learning
Developing management skills in a supportive environment
Supporting the individual in making that jump from student to qualified practitioner.
What sort of people make good Staff Bank members?
People who are
Flexible
Honest
Able to listen
Compassionate
Empathetic
Good communicators
Team players
Non-judgmental or discriminatory against others
Open-minded
Patient
Reliable
Able to work within boundaries
Aware of their own limits
Respectful of confidentiality.
How do I join Staff Bank?
Find out what Staff Bank vacancies are available at NHFT by clicking into the Current Vacancies section on the Why NHFT page.
There is a gap in advertising from 26th June – 21st August.
August adverts extended to prevent knock on effects of late September advert.
All shortlisting is carried out by Staff Bank.
A&C – Interviews to be carried out by Bank and Recruitment.
HCA – Interviews to be carried out by Bank and Care Certificate Team/Qualified
RGN/RMN – Interviews to be carried out by Bank and Qualified Band 7+
We will be open for Staff Bank applications during the following dates:
RGN & RMN

| | | | |
| --- | --- | --- | --- |
| Adverts Open | Adverts Close | Shortlisting Completed By | Interview Dates |
| 28/02/20 | 08/03/20 | 11/03/20 | 20th March |
| 03/04/20 | 12/04/20 | 17/04/20 | 20th April onwards |
| 01/05/20 | 10/05/20 | 13/05/20 | Before 25th May |
| 29/05/20 | 07/06/20 | 10/06/20 | 15th June onwards |
| 26/06/20 | 05/07/20 | 07/07/20 | 14th July onwards |
| 21/08/20 | 06/09/20 | 10/09/20 | 17th September onwards |
HCA and A&C

| | | | |
| --- | --- | --- | --- |
| Adverts Open | Adverts Close | Shortlisting Completed By | Interview Dates |
| 02/03/20 | 08/03/20 | 11/03/20 | 18th & 19th March |
| 06/04/20 | 12/04/20 | 17/04/20 | 20th April onwards |
| 04/05/20 | 10/05/20 | 13/05/20 | Before 25th May |
| 01/06/20 | 07/06/20 | 10/06/20 | 15th June onwards |
| 29/06/20 | 05/07/20 | 07/07/20 | 14th July onwards |
| 24/08/20 | 06/09/20 | 10/09/20 | 17th September onwards |