Governors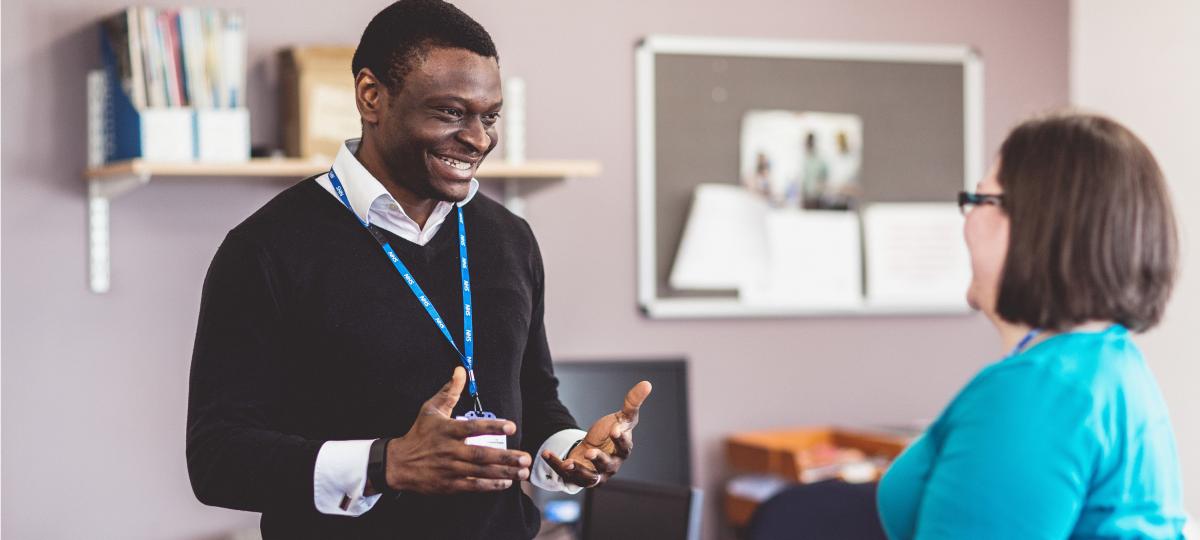 Governors
Our Council of Governors represents the interests of staff, patients, public, service users and carers, as well as other local organisations in the running of our Foundation Trust. The Council is largely made up of representatives covering all the districts and boroughs of the county. The Board of Governors meets regularly to discuss and review the Trust's plans. Contact the Foundation Trust Office if you would like to know more about becoming a Governor.
Notice of Annual General Meeting (AGM) and Annual Public and Members' Meeting (APMM): this will be held on Wednesday 23 September at 5:30pm - 7:30pm
What they do
The Council of Governors is a very important forum that helps shape the future direction of the Trust.
Members of the public, patients, service users, carers, and staff are all encouraged to get in touch with our Governors to improve the way we work and deliver services. You can contact any of our Governors via our Foundation Trust office. You can be confident that our Governors will always treat what you tell them sensitively and confidentially when needed. Your experiences, views and suggestions can really help the Trust to make services better for everyone. The Council of Governors meets regularly to discuss and review the Trust's plans. Other roles and responsibilities for the Council of Governors are:
Representing members' views to the Trust's board of directors
Sharing information about key decisions with members of the Trust
Appointing or removing the chair and non-executive directors
Being involved in recruitment of the chief executive
Appointing the Trust's auditors
Providing advice on the future strategic plans of the Trust
Receiving the annual report and accounts at the annual general meeting.
Council of Governors meetings
The Council of Governors meet regularly in public. Dates and venues for future 2020 and 2021 meetings are:
Thursday 12 November 10.00am - 14.00pm, Microsoft Teams

Thursday 14 January 13.00pm - 17.00pm, Microsoft Teams

Thursday 11 March 10.00am - 14.00pm, Microsoft Teams
As an NHS Foundation Trust, we take our accountability to local people seriously. We also place quality and safety at the foundation of everything we do. This is why in light of the COVID-19 pandemic, and in line with national guidance from NHS England/Improvement in March 2020, we decided for our Council of Governors meetings to be undertaken virtually. For our forthcoming meeting in September 2020, we are pleased to report that we have put in place a live event which will enable our members to observe and to pose questions.
If you wish to pose a question or attend the Council of Governors meeting, please e-mail FoundationTrust@nhft.nhs.uk by 17:00 on Tuesday 8 September 2020.
Please do take the opportunity to review the agenda and papers for our forthcoming Council meeting on 10 September, which are now available below.
The recording of our July 2020 Council of Governors meeting can be watched below.
Meet our Governors
Public Governors
Kettering & Corby - Zoe Martin | Chris Davison | Paul Joy
Daventry & South Northants - Michael Darling | Carol Philips | Gary Telford
Northampton - Helen Clark | Des Savage | Saher Anwar
Wellingborough & East Northants - Janet Hathaway | John Walker | Ranjit Singh
Rest of England - Colin Cohen
Patient Governors
Younger Service Users - Chelsey Raine
Adult Service Users - Tremaine Richard-Noel | Alan Clark | Kevin Boyce | Beverley Sturdgess | Neil Goosey | Vacant
Carers Governors
Paul Kelly | Scott Fitzsimmons | Fiona Judge
Staff Governors
Doctors & Dentists - Shahid Hussain
Registered Nurses - Cazz Broxton
Unregistered Nurses - Vacant
Other Clinical - Manda Mellors
Non Clinical - Samantha Benfield
Partner Governors
Northamptonshire County Council - Christina Smith-Haynes
Borough & District Councils - Councillor Rosemary Herring
The University of Northampton - Roshni Khatri
Criminal Justice Services, Youth - Liz Fowler
Criminal Justice Services, Adult - Vacant
Northamptonshire Rights & Equality Council - Wendi Buchanan
Older People - Age UK Northamptonshire - Sue Watts
Carer - Mark Major
Becoming a governor
Please contact us on 01536 452061 if you would like to discuss becoming a Governor. More information about what is involved in being a Governor is available on the NHS Providers website.
Governor elections
Nominations for Governor elections closed on Thursday 27th February 2020 please see here for a statement of candidates.
Please see below the outcomes from past elections.
October/November 2018
Statement of Nominated Candidates.
Uncontested Report November 2018
Previous elections include:
Statement of Candidates March 2018
Uncontested report for March 2018 elections
February 2018
Notice of Election February 2018
ERS website for February 2018 elections
June 2018
Notice of Election June 2017[pdf] 73KB
Statement of Candidates - 210717[pdf] 77KB
March 2018
Notice of Election - 080317[pdf] 354KB
Statement of Candidates - 080317[pdf] 190KB
Notice of poll March 2017[pdf] 237KB
Report on voting - 210417[pdf] 199KB
Uncontested report March 2017[pdf] 198KB
March 2019
Notice of Election February 2019