Apprenticeship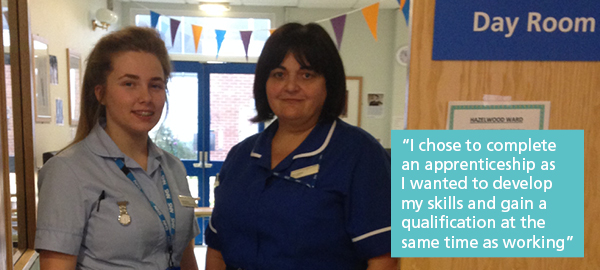 Apprenticeships
Northamptonshire Healthcare NHS Foundation Trust (NHFT) is the biggest healthcare provider in Northamptonshire. We offer many apprenticeships in both clinical and non-clinical areas. Apprenticeships include roles that do not involve working on wards or with patients.
We run an apprenticeship programme that offers opportunities from all areas of the Trust, ranging from healthcare and community roles to ones in corporate services, catering, and business administration. Our apprenticeships lead to nationally-recognised qualifications and provide routes into many different careers.
Apprenticeships are for people of all ages, there is no upper age limit. The important thing id that you are interested in learning new skills. After their apprenticeship, some people have gone on to get jobs within NHFT or other healthcare providers. Others have developed skills and experience that have helped them gain employment somewhere else.
Apprenticeships are a great way to start your professional journey. They are perfect for school and college leavers, as well as anyone wanting a change of career. You might not have a lot of work experience, however if you are compassionate, caring, committed and have courage, an apprenticeship role could be for you.
An apprenticeship is a valuable addition to your CV, builds experience and improves your confidence in the working environment.
What our apprentices have to say
"I chose to do an apprenticeship as I did not want to go to university, as I didn't know what career path I wanted to take. I chose NHFT because the Trust offers a wide variety of experiences, which I can now use in my day-to-day job and will be able to use in the future."
Charlotte Smith, Business Administration Apprentice
"I chose to do an apprenticeship as I wanted to improve my skills and gain a qualification at the same time as working. I also wanted a job that would allow me to gain a qualification in an area that could follow me wherever I choose to work in the future. It supported my choice to complete a Business and Administration National Vocational Qualification. I chose NHFT to do this, as there are many areas to work in if I wanted to follow a career in the NHS."
Alice Moore, Business Administration Apprentice
What can you expect
You will gain valuable hands-on experience working with our staff and the opportunity to learn new skills and knowledge. You will earn a competitive apprenticeship wage and have career support every step of the way.
Reasons why we offer apprenticeships
We offer apprenticeships because we want to:
Give valuable experience to students who want a career in the health sector.
Grow our future workforce.
Contribute to the health sector with a skilled, flexible and effective workforce.
Interested?
To see our current apprenticeships you can apply for, visit NHS Jobs
For more information please email Apprenticeships@nhft.nhs.uk