Prime Minister visits mental health services in Northamptonshire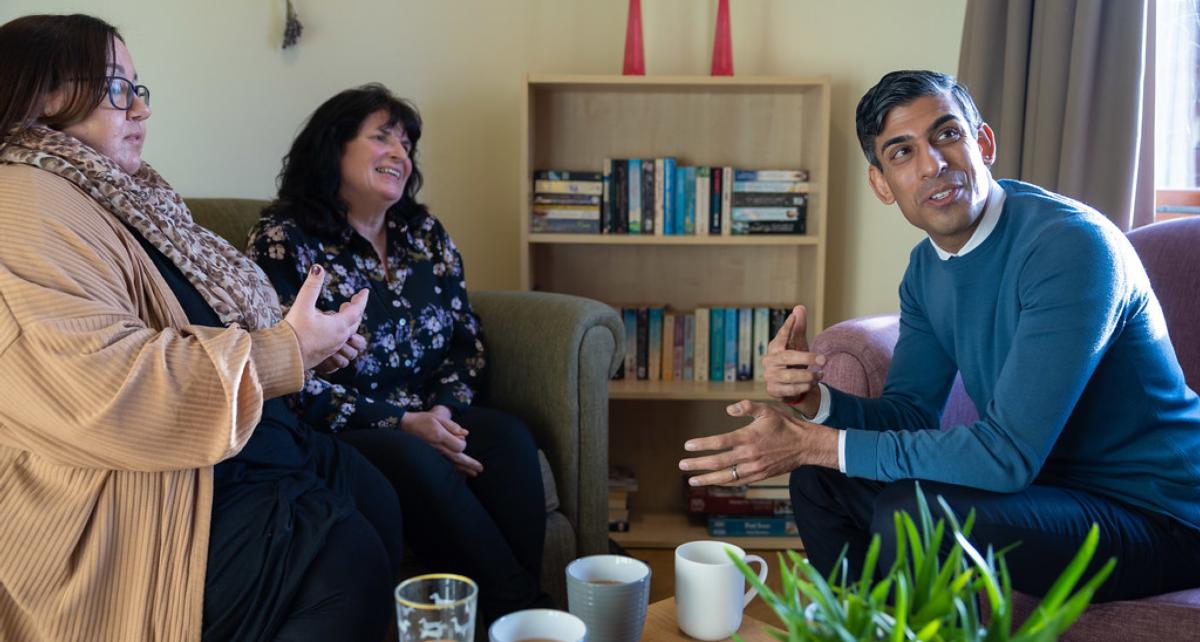 The Prime Minister the Rt Hon Rishi Sunak MP has praised Northamptonshire's mental health crisis and community services as "trailblazing" during a visit to the county this morning (Monday 23 January).
The Prime Minister visited Northamptonshire Healthcare NHS Foundation Trust (NHFT) in Northampton on the day the Government announced £150m of funding for 150 new projects to support mental health urgent and emergency care services.
During his visit Mr Sunak spoke with carers, service users, staff and executives from NHFT's Northampton Crisis House and Berrywood Hospital. He also spoke with colleagues from the voluntary and community sector and NHS Northamptonshire Integrated Care Board about the innovative work being done in the county to support people in mental health crisis in the community.
Northamptonshire was singled out as the preferred location for the Prime Minister's announcement in recognition of the pioneering partnership work around the mental health crisis pathway in our county. Crisis cafes, crisis houses, mental health ambulances and the mental health response hub were identified by the Prime Minister as particular examples of innovation.
Describing our work as "trailblazing" and "exemplar", Mr Sunak said Northamptonshire's introduction of a mental health response hub, which had been in planning here for a year before it became a national requirement, was an example of work which put us "ahead of the curve" – as was the ongoing work to develop a new mental health ambulance service for the county.
David Maher, Managing Director at Deputy Chief Executive at NHFT, said: "We were delighted to welcome the Prime Minister to Northamptonshire. As a Trust we have been focused on developing our crisis pathway over many years, working closely with our partners across the health and care system.
"Today's visit was recognition of the difference these services have made as well as reflect on the growing challenges and pressures on mental health services.
"I would like to thank all those involved making the visit happen, including colleagues, service users, carers and partners."
Anne Rackham, Director of Mental Health services at NHFT and Senior Responsible Officer for Integrated Care Northamptonshire's Mental Health, Learning Disability and Autism Collaborative, said: "We welcome the focus on mental health services that this visit has brought. Our crisis services have been developed based on the lived experience of service users and carers over many years. The opportunity for them to speak directly to the Prime Minister, about the benefits of the crisis houses and other crisis services, allowed us to demonstrate the value these services bring.
"As a Trust we continue to develop crisis services, at point of need, with a new crisis response unit (mental health ambulance) currently in development."