System-wide remote monitoring project shortlisted at the HSJ Digital Awards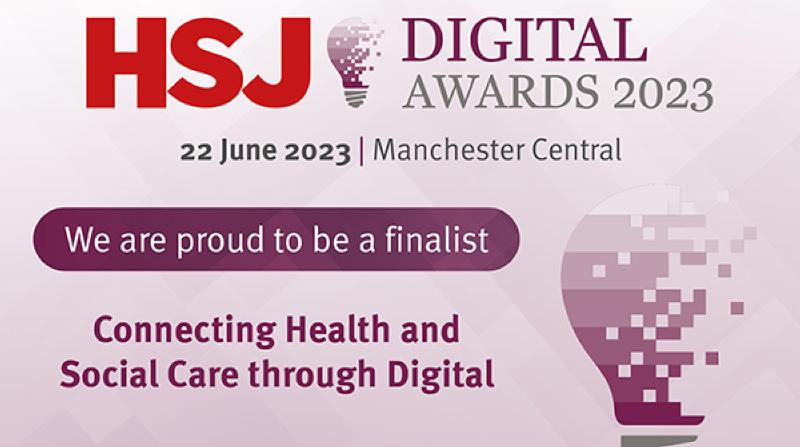 Integrated Care Northamptonshire – along with health and social care partners West Northamptonshire Council, North Northamptonshire Council, Northamptonshire Healthcare NHS Foundation Trust and healthcare technology experts Docobo - is proud to reveal that their collaborative project 'Remote Monitoring in the community' has been shortlisted for three categories at the inaugural HSJ Digital Awards.
These awards recognise outstanding contribution to healthcare and earning the opportunity to showcase their achievements on a national platform. The categories the teams are nominated for are: Connecting Health and Social Care through Digital, Improving Out of Hospital Care through Digital and Empowering Patients through Digital.
In its opening year, the HSJ Digital Awards aims to shine a light on the outstanding efforts and achievements that individuals and teams across the digital sector deliver on a daily basis.
Following the thorough judging process, the system-wide teams were shortlisted, ahead of the official awards ceremony to be held later this year on 22 June. Despite the tough competition, the remote monitoring in the community project really did stand out as a 'success story' worthy of a prized place on the panel's shortlist. At this first stage of judging, the shortlist was based on ambition; outcome; value; involvement & working together, and crucially, how the project might be "picked up" and replicated elsewhere for the benefit of both patients and professional colleagues.
The remote monitoring project has been developed to support people in care homes and in the community as part of the Integrated Care Northamptonshire's Ageing Well programme.
Teams from West Northamptonshire Council, North Northamptonshire Council, and Northamptonshire Healthcare NHS Foundation Trust have been working on the remote monitoring project with Docobo to roll out the technology across 11 care homes so far with a further 9 onboarded later this year.
One of the care homes using the technology with the Virtual Clinical Hub has reported the average number of GP same-day appointment requests being reduced from 15 per week to an average of 6 per week freeing up GPs' time to care for those residents in greater need. Within the same care home, the number of ambulances being called out has also dropped from 60 per month to 8 per month.
Patients are monitored by a Virtual Clinical Hub Team using Docobo's DOC@HOME platform. Carers or patients can enter vital signs and answer questions about their health onto a device, which is then automatically and securely sent to the clinical hub. Patients are monitored daily or three times a day depending on their clinical needs and whenever an anomaly is detected.
The full list of nominees for the 2023 HSJ Digital Awards can be found here alongside details of the Awards partners.
The selected winners will be announced during the awards ceremony at Manchester Central on Thursday 22 June 2023.