NHS70 celebrations continue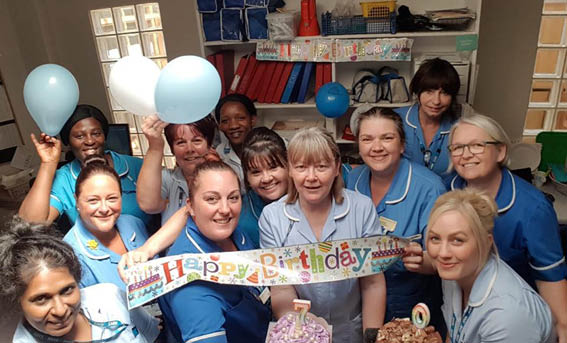 The Trust has enjoyed a fabulous week of celebration to mark the 70th birthday of the NHS with plenty of birthday cake!
Representatives of the Trust travelled to a service at Westminster Abbey and our Chief Executive Angela Hillery attended a reception with the Prime Minister at 10 Downing Street.
Some of our longest serving members of staff took us on a trip down memory lane by sharing their memories on social media and decorations and cakes were enjoyed across the Trust.
A birthday card was sent to all to commemorate the day and can be printed as a keepsake.
Earlier this week (July 4) two Trust teams attended the Royal College of Nursing annual award ceremony, presented by Kate Garraway, in London.
We were shortlisted in two categories which is a fantastic achievement as they received more than 800 entries in total.
The Prevention and Management of Violence and Aggression team have also been shortlisted for an HSJ Patient Safety Award for the body worn camera project and will find out the final result at the ceremony next week, in Manchester on July 9.
Celebrations continue this weekend at Northampton racecourse, Unison would like to invite staff, family and friends of NHFT to a family friendly march in celebration on Saturday (July 7).
The march will take place at the Northampton Town Festival at the Racecourse, Northampton from 10.30am - 12.30pm. You will be able to find them at the 'White Elephant pub' end of the park, where the march will begin at 11am and they will complete a full lap around the park.
Refreshments will be provided and 1940's fancy dress is encouraged but optional.
Photo is copyright of Tara Corbett