NHS England visit to talk Diversity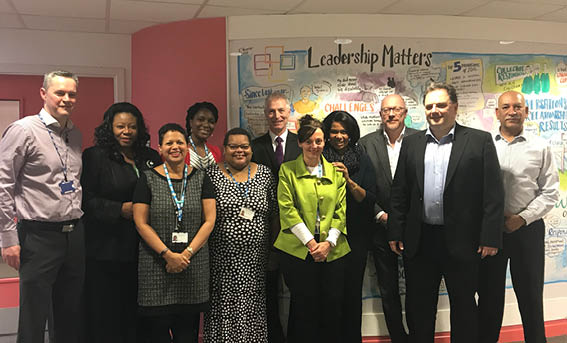 Last week the Trust was honoured to receive a visit from Yvonne Coghill OBE, the Director of WRES (Workforce Race Equality Standard) Implementation for NHS England.
In 2013 Yvonne was voted by colleagues in the NHS as one of the top 50 most inspirational women, one of the top 50 most inspirational nurse leaders and one of the top 50 BME pioneers. Yvonne was awarded an OBE for services to healthcare in 2010 and was appointed as Director for WRES Implementation in June 2015.
WRES is a requirement for all NHS commissioners and healthcare providers to ensure employees from black and minority ethnic (BME) backgrounds have equal access to career opportunities and receive fair treatment in the workplace.
Throughout 2017 the Equality and Inclusion team have made strong links with the NHS England WRES team and the East Midlands Leadership Academy Visible Leaders Network. During her visit, Yvonne met with the team and staff from BME backgrounds who spoke about the challenges and on-going focus on diversity within the Trust.
She also met with our Chief Executive Angela Hillery who said: "During her visit Yvonne commented that the Trust felt different to many others she has visited and that staff voices were clearly being listened to.
"She also mentioned that nationally people are talking about the diversity work going on here very positively and that's something that I'm immensely proud of.
"There are still challenges ahead but I am confident that with our collaborative approach we will continue to make positive changes."
Following her visit Yvonne tweeted: "With grateful thanks to all @NHFT for the warmth of the welcome and with listening with fascination to all we had to say."