NHS chefs 'vie' to dish up a win at world famous competition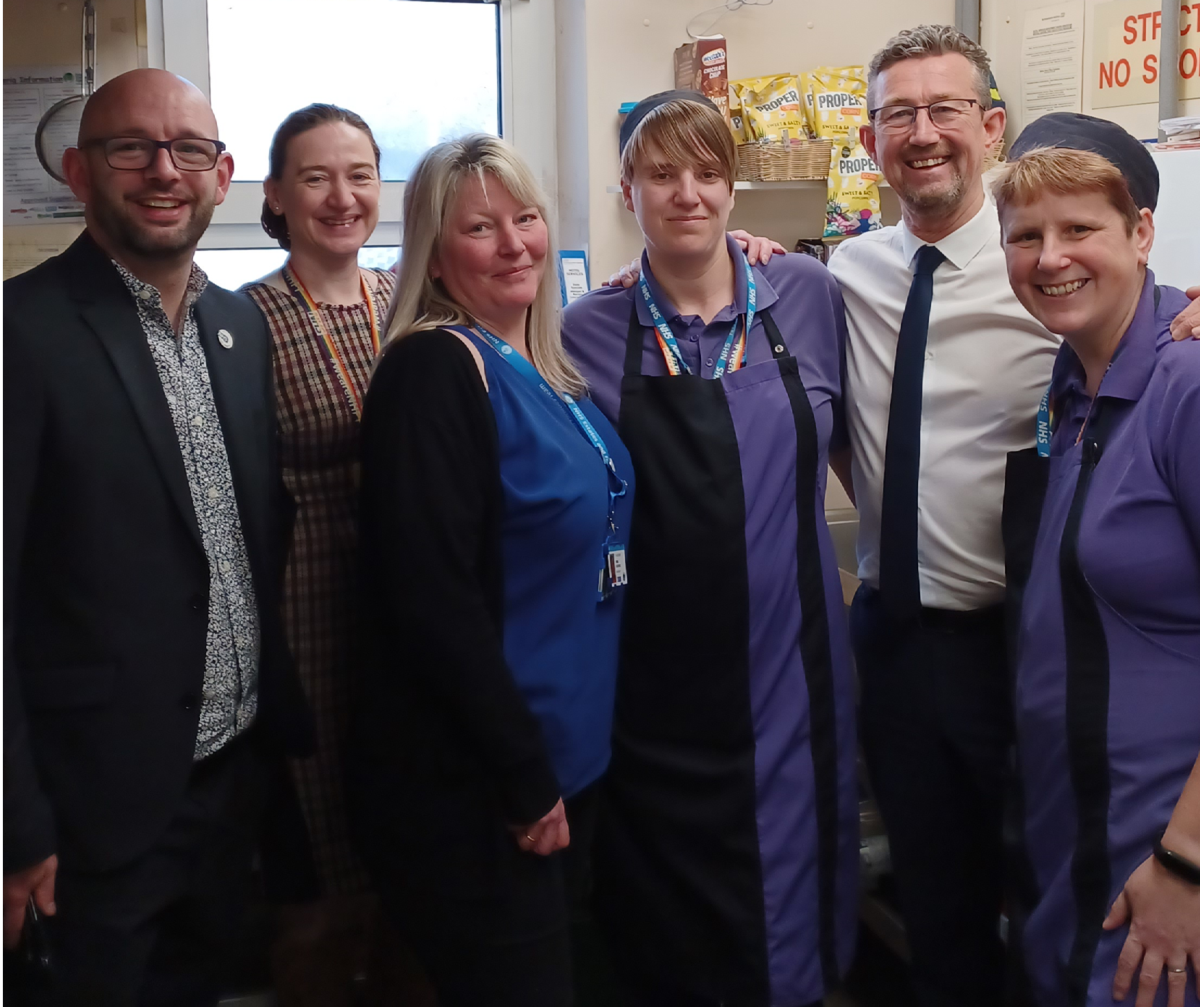 Two local NHS chefs are set to cook up a storm in a high-profile competition alongside culinary challengers from across Britain.
In 2022, Kerrey Healey and Natasha Day from Cafe Vie, Isebrook Hospital, in Wellingborough, were named among the best chefs in England when they were crowned regional winners of NHS Chef of the Year 2022. They wowed the judges with their Vegan Rainbow spring rolls, stuffed chicken Ballotine served with mashed potato and roasted cherry tomatoes, followed by triple berry cobbler served with custard. And although they didn't win in the grand final, they did themselves proud, and their dishes are being considered for the NHS menu choice for all UK hospitals.
Now, Kerrey and Natasha – who work for Northamptonshire Healthcare NHS Foundation Trust (NHFT) – have been invited to take part in this year's NHS 4 Nations Chef Challenge, part of the International Salon Culinaire, which is due to take place on 20 March 2023 at ExCeL, London.
International Salon Culinaire is regarded as one of the world's top competitions for chefs and has championed culinary excellence for over a century. The event has been a platform for chefs of all levels and highlights the exciting gastronomic skills of the hospitality industry. It has helped launch the careers of Gordon Ramsay, Nick Vadis, Antony Worrall-Thompson and Glynn Purnell to name a few.
Kerrey and Natasha will join another three teams to make 'Team England' and produce a three-course meal within a budget of £6 a head. One course must be plant-based, the main course must be served hot and be nutritionally balanced, and the pudding must be 50 per cent fruit-based. They must also demonstrate a high level of hygienic working practice with consideration to sustainable procurement and food waste.
Kerrey said: "Natasha and I feel very proud and excited to be chosen as part of the England team for this event. We are looking forward to showcasing some of the new skills we learnt at the NHS Chef of the Year 2022 competition and showing how our skills have improved due to the fantastic experience and support that we had. We are also looking forward to meeting up with some of the friends that we made from our time in the competition and competing with them again."
Natasha added: "We hope to gain more experience and a variety of new culinary skills to take back to our little café ready for the new café at Isebrook which is planned to be refurbished at some point this year, so that we can really show off everything we have learnt for the benefit of our customers, staff and patients. I've learnt that good cooking results in good nutrition, enjoyment of eating and is always a good conversation starter!"
David Maher, Deputy Chief Executive at NHFT, said: "I am delighted that Kerrey and Natasha once again get to showcase their inspiring skills and to represent themselves and the trust in the NHS 4 Chef Challenge. To form part of a 'Team England' is joyful news, and I know that colleagues across the organisation will be cheering and willing them on with great pride. We send them the very best of luck for the 20 March – go team NHFT - and go Team England!"
Part of last year's NHS Chef of the Year competition included a special visit to the sites of NHS Chef of the Year winners and runners up, and the pair recently received a visit at Isebrook Hospital from Emma Brookes Head of SFM strategy and operations, Phil Shelley Senior Operation and Policy Management and Andy Politi National Development Chef from NHS England Estates and Facilities.
The visit was an opportunity to showcase the hospital cafe and facilities, as well as explore new products, and discuss patient catering, menu options and any challenges.
Andy Politi confirmed that he would be returning to NHFT to work together with the Café Vie staff at its kitchens in Berrywood Hospital in Northampton to provide more opportunities for staff to connect and learn new skills together.
Kerrey and Natasha also received a visit from the branch chair and secretary of the Hospital Caterers Association who congratulated the pair and presented them with a gift voucher (pictured).
Group photo: (l-r) Andrea Raymond, Paul Sheldon, Andy McLester, Andy Politi, Kerrey Healey, Natasha Day, Emma Brookes, Phil Shelley, Joanne Fitzgerald and Kevin Westrip