Therapy dog lending helping paw to children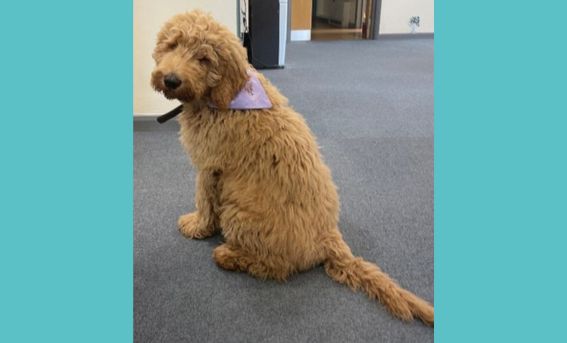 It's a clear case of 'puppy love' in Northampton thanks to a trainee 'therapy dog' who is helping children and young people on their journey with a local eating disorders support service.
Sipho, the 10 month-old labradoodle puppy, is now a familiar presence at The Brambles in Duston, Northampton, where he is making a positive difference to young patients by putting them at ease and helping them feel more comfortable to open up about their challenges.
His owner, Bronwyne Stott, an advanced paediatric nurse specialist for the Children and Young People's Eating Disorder Service, says Sipho (pronounced 'See-po') is a welcome addition for both patients and staff.
The Brambles, run by Northamptonshire Healthcare NHS Foundation Trust (NHFT), provides an eating disorder service for children and young people.
Bronwyne and the staff said that many of the children who she meets are often anxious or worried, but as soon as Sipho greets them at the entrance, they say that they immediately feel more relaxed. The children also enjoy taking him for a relaxing walk with staff around The Brambles' garden, and are able to chat about how they're feeling more openly.
She said: "He greets the children at the door and often sits with them in the waiting room. He instinctively seems to know who is feeling anxious or vulnerable and will sit with his chin on their foot. He makes them laugh, and gets them chatting; they can sit and stroke him which puts the children, and their parents, at ease."
Staff have also benefited from Sipho – whose name means 'gift' – and enjoy taking him for a walk during their lunch break which can help improve wellbeing.
Bronwyne, who is responsible for assessing the physical health of the young patients as part of her role, said she deliberately chose a labradoodle because they have non-shedding fur which makes them more hypoallergenic and better to interact with the children.
The young people, who attend The Brambles, were involved in conversations, early on, and their views were pivotal in introducing a therapy dog to the service.
One parent said: "My daughter loved being able to meet Sipho and she still talks about him now. It was a validating opportunity for her to have her views and opinions heard. Although she is often anxious in these kind of situations, she was put at ease and had a positive experience within the group."
Sipho – who Bronwyne named after an African musician called Sipho 'Hotstix' Mabuse – is working towards becoming a fully trained therapy dog when he's 18 months old. He is attending a local dog training school and will later be assessed by a qualified trainer.
Bronwyne added: "Dogs are therapeutic anyway, and the benefit of having Sipho here has been amazing. If you have an eating disorder, or complex feeding issue, he proves a great distraction from the challenging circumstances these children are in, and he helps give them the confidence to take the next steps towards recovery."
Pictured: Trust me I'm a dog-tor – It's puppy love for Sipho and a friend at NHFT