Innovative NHS caterer dishes up national award win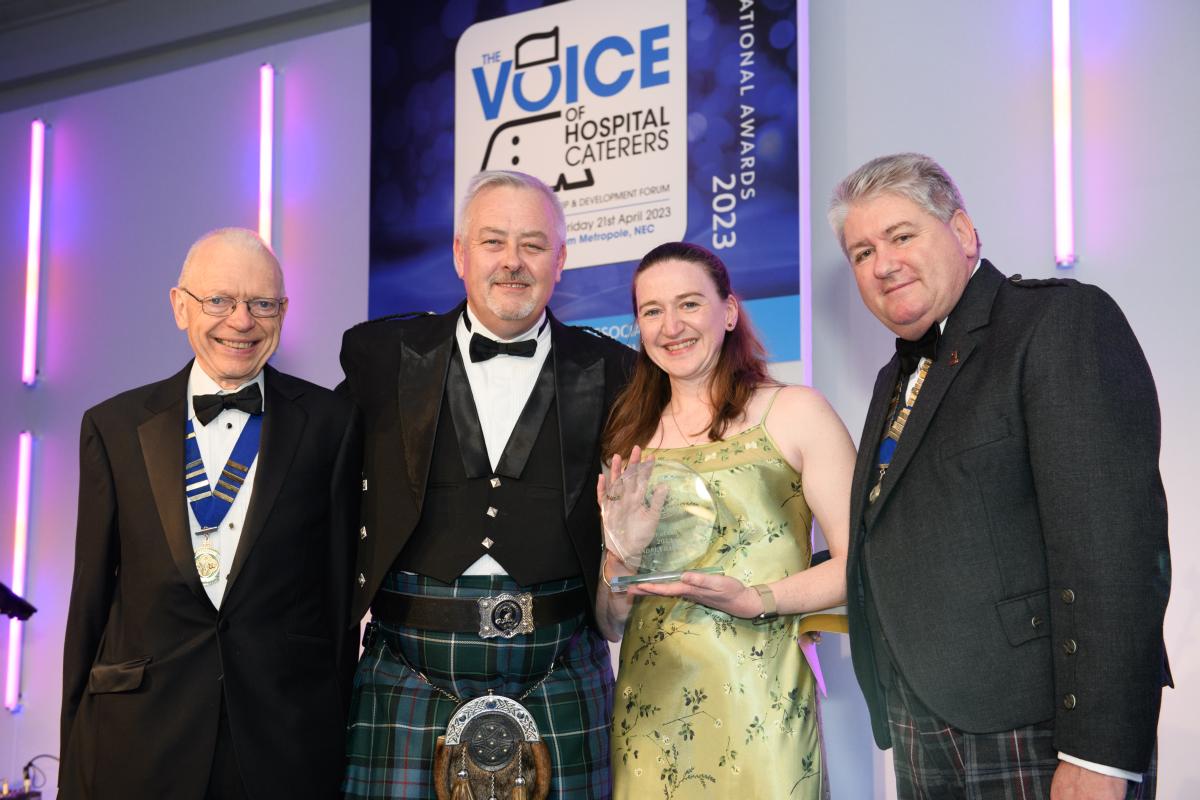 An NHS caterer, whose innovative approach to improving hospital food has won her a national award, says she's "proud and humbled" to be honoured.
Andrea Raymond, Operations Manager for Catering Services at Northamptonshire Healthcare NHS Foundation Trust (NHFT), has been named 'Caterer of the Year' by the Hospital Caterers Association (HCA).
The prestigious annual awards, which recognise the hard work and dedication of hospital caterers and publicly acknowledge excellence and innovation, were announced at the HCA's 2023 National Leadership and Development Forum held in Birmingham.
Andrea was named winner for her impressive series of quality improvements for patients and staff, including inventive meal options and menus, and photographic specifications on how each meal should be served. Other initiatives Andrea has introduced include offering a free KitKat to remind NHS staff to 'Take a break', when a purchase was made in the café, and 'Free Fruit Friday' in collaboration with NHFT's Wellbeing Team.
Andrea was nominated by the Oxford branch of the Hospital Caterer's Association which represents NHFT and others in the area.
Andrea said: "I am so proud and humbled not only to be nominated by the Oxford branch but also to be the recipient of this year's award. I have received so much support and encouragement from so many people at work and beyond; I also am very lucky to have a great team working with me."
The awards publicly acknowledge exceptional commitment and outstanding contributions over the past 12 months. The judging panel consisted of HCA President the Rt Hon Lord Hunt of Kings Heath PC OBE, Vice Presidents Mark Hayman and Alison McCree, and National Chairman Brian Robb.
Kevin Westrip, General Manager, Hotel Services, said: "Andrea has worked tirelessly to maintain the patient meal and café catering service through recent difficult times and its challenges. There's a lot of behind the scenes work Andrea undertakes, daily, to continually improve the patient meal, and staff visitor cafés services across our hospital sites. Andrea is a well-deserved winner, a credit to the Northamptonshire Healthcare Hotel Services department and the Trust."
Nine awards were presented including Caterer of the Year, Catering Team of the Year, Efficiency and Improvement Award, Special Contribution Award, National Rising Star, National Leadership and Excellence Award, Trade stand, Chairman Choice and the Wilma Wilkie Outstanding Service Award.
Read more about the awards, and the winners, at www.hospitalcaterers.org/news-events/news/l-hca-awards-2023/