Oh what a night! NHFT celebrates Quality Awards winners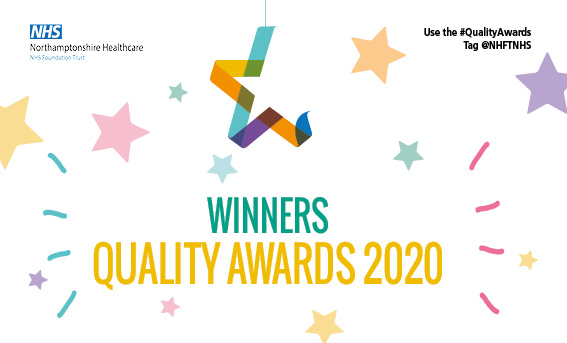 Last night, Thursday 17 December, we were honoured to host a glittering virtual award ceremony, celebrating our colleagues' achievements and hard work from throughout the year. And what a celebration it was! Although the pandemic meant that we couldn't do our usual in-person meal and party evening, we weren't going to let that stop us from celebrating our outstanding teamNHFT. Instead, the event was bigger and better than ever before as colleagues from across the Trust were able to tune in and take part.
The event was hosted by television's Nick Hewer (Countdown, The Apprentice) who kept us laughing throughout the evening, and our virtual attendees were also treated to a host of celebrities to announce our category winners, including sports personalities Matt Dawson and Dame Kelly Holmes; actors Alan Fletcher (Neighbours), John Thomson (Cold Feet), Bruce Jones (Coronation Street) and David Hasslehoff; musicians Justin Hawkins (The Darkness) and Beverley Knight; TV personalities Mr Motivator, Dom Joly (Trigger Happy TV); Pete Bennett (Big Brother) Sandi Bogle (Gogglebox); and Strictly Come Dancing judge, Shirley Ballas.
Of course, this was an award ceremony, and so the real stars of the show were all of our shortlisted nominees and our well-deserving winners, the full list of which can be viewed below. Winners and highly commended nominees included individuals and teams from all over the county, from Corby Community Hospital to Northampton's Berrywood hospital and beyond. They also spanned the full range of NHFT's services, highlighting the important work of our adult and children's services (such as health visitors, community hospitals, 0-19 team); mental health services (such as perinatal mental health service; 24/7 mental health response hub; inpatient mental health); as well as secured services, carers and involvees, and inclusion leaders, just to name a few.
Our very own Chief Executive, Angela Hillery, and Chair, Crishni Waring, opened and closed the evening, sharing their own words of gratitude to teamNHFT.
Chief Executive, Angela Hillery, said today, "We are proud to recognise the hard work of teamNHFT every year, but 2020 has been a year like no other.
Our colleagues have achieved so much and have made such a difference to our service users – all whilst managing through the COVID-19 pandemic. Their efforts are the epitome of going the extra mile, and it's a pleasure to shine a spotlight on some individuals, teams and services that may not often be at the forefront of the public's perception of the NHS.
I am immensely proud of everyone who was shortlisted last night, and of teamNHFT as a whole, who continue to provide outstanding and compassionate care to the people of Northamptonshire and beyond."
We must extend a huge thank you to the Northamptonshire Health Charity, who provided support and funding to allow this virtual event to go ahead; as well as our other sponsors, including VerseOne.
2020 Quality Awards Winners
NHS Ambassador Award
Winner – Madeline Warwick, Specialist Occupational Therapist – Specialist Perinatal Mental Health Service
Highly Commended – Christine Edwards, Team Leader – Mental Health Integrated Response Hub, Hospital at Home, and Crisis Cafes
PRIDE Award
Winner – Georgina Lomas, Individual Placement and Support Employment Specialist
Highly Commended – Debbie Quinn, Palliative Care Clinical Nurse Specialist
Quality Care Award
Winner – Leanne Beeby, Health Visitor – 0-19 Service
Highly Commended – Kerry Robb, Community Nursery Nurse
Patient Choice Award
Winner – Corby Community Hospital – Adult Community Inpatient Beds
Highly Commended – Beechwood Ward, Isebrook Hospital – Adult Community Inpatient Beds
Leadership Award
Winner – Christine Edwards, Team Leader – Mental Health Integrated Response Hub
Highly Commended – Sara Johnson, Ward Matron – Sandpiper Ward, Mental Health Inpatients
Unsung Hero Award
Winner – Workforce Systems Teams
Highly Commended – Virtual Wellbeing Festival team
Inclusion Superhero Award
We have two winners:
Doris Addo, Support Worker – Community Forensic Mental Health team, and member of the staff BAME netwiork
Gillian Bromley, Specialist Podiatrist
Anne McWatt Award for innovation in involvement
Winner – Sharon Gibbard, NHFT Carer and Involvee
Highly Commended – Chris Davison, NHFT Public Governor for Kettering/Corby and Deputy Lead Governor
Rising Star Award
Winner – Kerry Robb, Community Nursery Nurse
Highly Commended – Anthony Hammond, Apprentice Student Nurse – The Sett, Children's Inpatient Mental Health
Team of the Year Award
We have two winners:
Occupational Health and Wellbeing Team
Specialist Perinatal Mental Health Team
Special Recognition Award
Winner – Jayne Cowles, Senior Nurse RGN – HMP Whitemoor
We have two highly commended
Riverside Ward, Berrywood Hospital – Older People's Inpatient Acute
Paul Rosen, PMVA Trainer – Prevention and Management of Violence and Aggression team
Fundraiser of the Year Award
Winner - Colin Toal