NHFT recognises nurses on Florence Nightingale's 200th birthday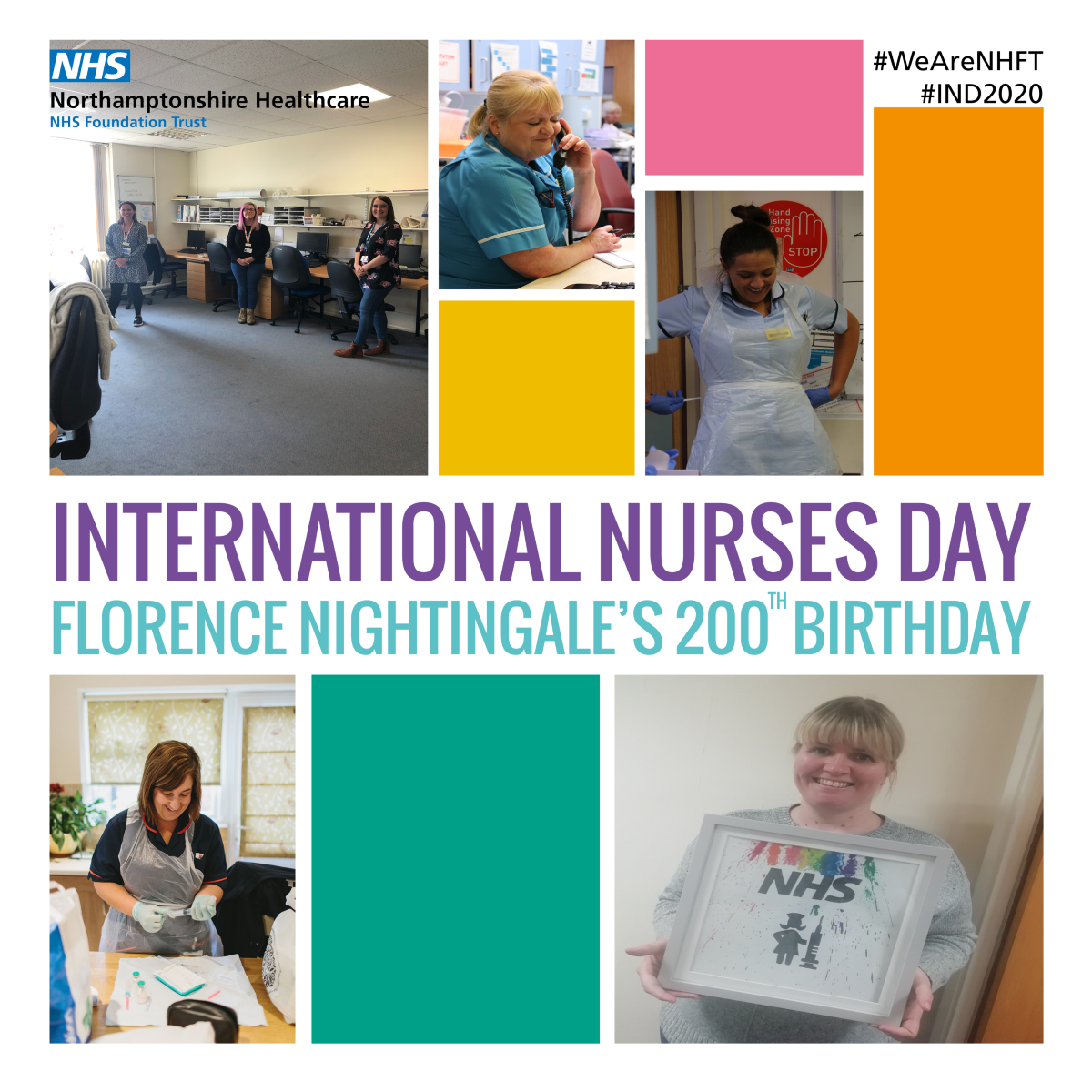 We are proudly recognising all the work that our nurses do in honour of Florence Nightingale's 200th birthday, International Nurses Day 2020 and the first ever global Year of the Nurse and Midwife.
NHFT's nurses are a vital support and care system for so many of Northamptonshire's residents and beyond, making a difference each and every day.
There is huge range of nurses working in NHFT including nurses working in secured services, community nurses, school nurses and health visitors, learning disabilities nurses, mental health nurses, specialist palliative care nurses, infection prevention control nurses, nurses working in community beds, specialised children's nurses and many more– the wide array of skills NHFT nurses bring benefit to all they meet.
Julie Shepherd, Chief Nurse at NHFT explains: "I am so proud of each and every nurse, as well as our other staff, that we have here at NHFT, even more so during this current time. They perform outstandingly and with compassion and I am so pleased to recognise their dedication on International Nurses' Day. Each day our nurses go above and beyond to make a difference both on wards, in clinics and in our community for our patients. Being able to show our appreciation of them and show them how valued they are, particularly on Florence Nightingale's 200th birthday, is so special as they deserve the recognition for all they do for patient services."
Here are just some of the many nurses that work to make a difference.
Michelle, a Children's Community Nurse with a drawing gifted to her by one of the families she cares for
NHFT Infection Prevention and Control team who have risen to the challenge of Covid-19, working tirelessly to keep colleagues and service users safe.
Julie, our Chief Nurse proudly dons her nurses uniform
Estelle, Community Children's Nurse, who performed alongside Colonel Tom Moore on his single You'll Never Walk Alone, spends her days looking after children and families in Northamptonshire.
To read about our NHFT Substance Misuse Nurse Susan who works at HMP Bedford: https://bit.ly/YoNSusan
To read about NHFT's Specialist Nurse Therapist for Children and Young People's Community Eating Disorders Nurse Becky: https://bit.ly/YoNBecky