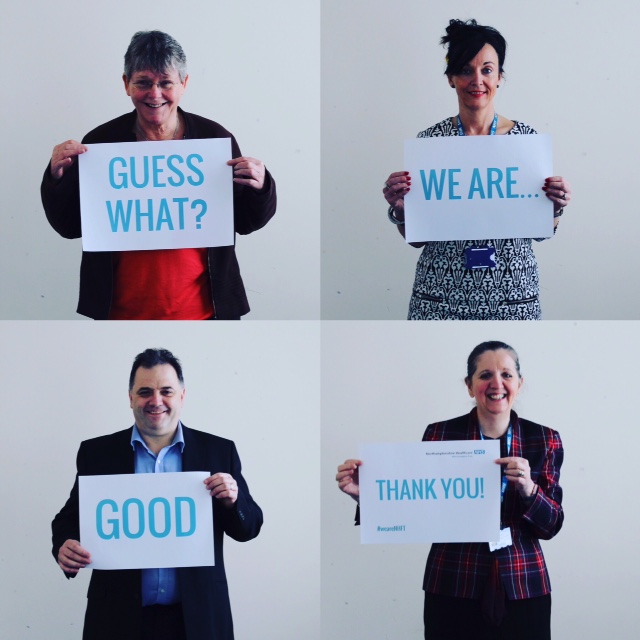 One of the largest providers of NHS services in Northamptonshire has been rated as Good by the Care Quality Commission (CQC) and Outstanding regarding whether services were caring.
Northamptonshire Healthcare NHS Foundation Trust (NHFT) provides a comprehensive range of physical, mental health and specialist services, many of which are provided in hospital, from a GP surgery, clinic or in the patient's own homes.
The CQC carried out a comprehensive assessment of NHFT services in January of this year and rated the Trust overall as Good. This was an improvement on the last inspection in 2015 when the Trust was rated as Requires Improvement.
Angela Hillery, Chief executive at NHFT, said: "We are delighted to receive the CQC rating of Good and we are very proud of achieving Outstanding for caring too. This is a testament to the dedication of everyone who is part of team NHFT to ensuring we are making a difference in the lives of patients, services users and carers.
"When we received the rating of Requires Improvement in 2015 we said at the time that this reflected our continuous journey of improvement and I am thrilled that the CQC has recognised the work everyone has put in to improve our services since this time."
CQC inspectors inspect services on five areas: Care, Responsive, Effective, Well-led and Safe. The Trust has been rated as Outstanding for Care, Good for Responsive, Effective and Well-led and Requires Improvement for Safe.
Angela added: "Our patients, service users and carers are and have always been our highest priority. I am delighted that we can officially say that the care we provide is Outstanding. I am so proud that the CQC recognised that our team are helpful, empathetic and treat our service users with kindness and dignity.
The CQC also noted in the report that: "The board level leadership was Outstanding. The senior leadership team were instrumental in delivering the quality improvement work across the Trust."
Angela said: "This is particularly encouraging for us as we have regulator assurance that our management frameworks are sound and are effectively facilitating our continued quality improvement. We look forward to continuing to apply these frameworks across all our pathways of care and in all our partnership activity.
"We also know that we still have work to do and our journey does not end here. In particular we need to focus on the Safe area where improvements are required. I welcome the CQC's view that they are confident we will work to deliver these improvements on behalf of all of our patients".
The report found that:
Patients are treated with kindness, dignity and respect
Staff attitudes were helpful, understanding
Staff language was kind and supportive so patients would understand
Staff communication was kind, respectful and compassionate
We encourage feedback with the online feedback website receiving 61,000 reviews since launch
That the Trust is committed to involvement including a well-attended involvement group
There was robust governance and safeguarding systems in place
The Trust has a clear vision and set of values
We have invested in an extensive range of staff wellbeing programmes
Staff involved patients in their care plans
All teams described effective and collaborative team working and had effective working relationships with external agencies
Physical healthcare needs had been addressed at inpatient mental health settings
The trust board encouraged candour, openness and honesty from staff
Staff felt supported by the board to work with change and felt able to provide feedback about their experiences.
For more information about the Trust visit: www.nhft.nhs.uk or follow us on Twitter: @nhftnhs