Let's talk about mental health?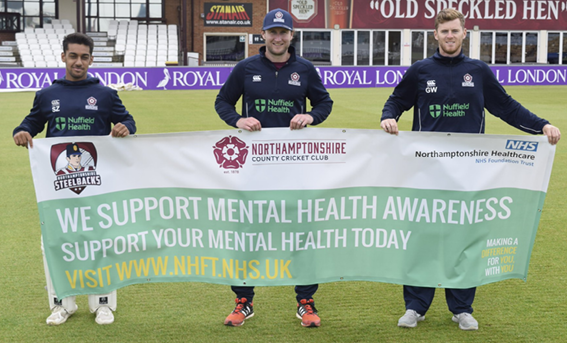 With the Ashes just starting, the football season gearing up again and many other sporting professions coming to a close / just beginning, it is a timely opportunity to highlight the importance of looking after your own mental wellbeing.
Just like the sporting professionals who passionately play for these teams, no matter how much you love your job it is still possible to feel stressed, low in mood, or run yourself too 'thin on the ground'.
As a community and mental health provider in Northamptonshire, we understand and see daily the courage it takes for individuals to ask for support or access mental health services. Sometimes even talking about it, or discussing it with a fellow friend, colleague, partner or even family member can be difficult.
That's why we continuing to encourage individuals to share how they are feeling to help 'normalise' the conversation about mental health.
We have a number of services at NHFT that you can access yourself. This means you do not need to be referred by your GP or healthcare professional, you can simply contact the service directly. Take a look below:
Suffering with depression or anxiety?
Service name: Changing Minds IAPT
Overview: Working within GP surgeries and in other community areas, IAPT provide structured support to those over the age of 17 and a half who experience common mental health problems which impact on their wellbeing. These might include depression, anxiety, phobias, Obsessive Compulsive Disorder or Post Traumatic Stress Disorder.
How to access this service: Referrals can be made by your GP or you can refer yourself directly by calling on 0300 999 1616 (9 to 5 weekdays) or by filling in the online form on www.nhft.nhs.uk/iapt
Outcome: treatments may vary dependent on individual needs, however example treatments may include; live online wellbeing course, online supported cognitive, behavioural therapy (CBT) or self-help interventions.
Are you in a crisis or need support with your mental health outside of 9 to 5 hours?
Service name: Mental health Crisis Cafés
Overview: these mental health crisis cafes are run by local Mind organisations and are supported by NHFT. When attending a Crisis Café a MIND peer support worker and a NHFT mental health professional will be available to provide support to anyone 18 or over who are finding themselves in a crisis or need support with their mental health. They provide support for mental health issues to anyone in need by offering coping mechanisms and management techniques to help reduce the risk of crisis.
How to access this service: simply drop in to one of the Northamptonshire locations to receive support. For all locations, dates and times please visit: www.nhft.nhs.uk/crisis-cafe
Outcome: support will help reduce any immediate crisis and to safety plan to manage their mental health and wellbeing. As well as this, professionals can also refer and direct you to further services if required.
Mental health support in A&E acute hospital wards
Service name: Acute Liaison Mental Health Service
Overview: the service supports people over the age of 18 with mental health needs who are attending A&E or are inpatients at Kettering General Hospital NHS Foundation Trust and Northampton General Hospital. It also provides support for those who have physical health needs which affect their mental health.
How to access this service: services are based at Kettering General Hospital NHS Foundation Trust and Northampton General Hospital and support referrals from their A&E departments and inpatient wards.
Outcome: you will receive an assessment, support, brief interventions and discharge planning. Staff will work through what further help you may need and draw up a plan of care, it may be that you are referred to psychological therapy within the service if deemed appropriate from the assessment.
Wellbeing support
Service name: Mental Health Navigators
Overview: provides support in the community to help people over the age of 18 years, improve their general wellbeing. The service is designed for people experiencing difficulties with their emotional wellbeing – stress, anxiety, depression or recovering from a mental health condition.
How to access this service: referrals can be made from GP's as well as other healthcare professionals and self-referrals direct to the team. For help and advice with self-referrals please call 01604 658813, email mentalhealth.navigators@nhs.net or visit www.nhft.nhs.uk/navigators
Outcome: treatments may vary dependent on individual needs, however example treatments may include; motivational interviewing, 1-1 support, counselling and group work.
For a full list of our mental health services, please visit: www.nhft.nhs.uk