Supporting Movember, raising awareness of men's physical and mental health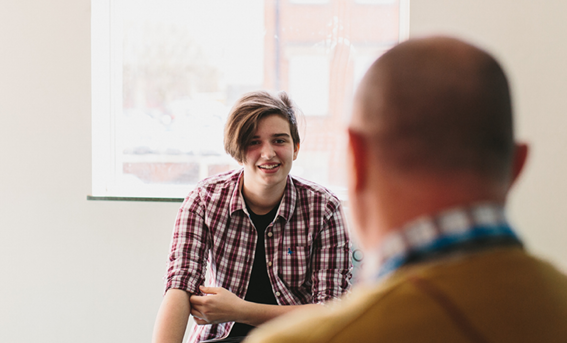 November marks 'Movember', an annual campaign to raise awareness of men's health, with a key focus on mental wellbeing.
You may have been feeling in overwhelmed or 'in a rut' for a while now, and you're not quite sure why that is. Well, at NHFT we provide a number of services to support with mental wellbeing, and our teams are on hand to work with you to get back on track.
It can often be daunting to reach out for support if you're not sure where to start. We have asked our Consultant Psychiatrist, Dr Shahid Latif, for his advice on how to recognise if you need support and where to start:
"It's important to be able to talk about our own mental health and the emotions that we may experience that may be having an impact on our day-to-day functioning. Some of the barriers and challenges for people that prevent them from asking for help include; lack of understanding of mental health difficulties, what help is available out there and how to access it, believing that one could be perceived as being weak by expressing how they feel, stigma, feeling ashamed and lack of trust.
"Benefits of accessing help include a sense of acceptance, reduced feelings of guilt and/or abandonment, early treatment interventions, avoiding potential complications like worsening or deterioration in physical health, improved confidence and self-esteem, a better understanding of self-management techniques and the ability to gain back the control that one may perceive they have lost."
NHFT, in partnership with mental health charity, Mind operate a 24 hour mental health number which provides one place for people facing any mental health problems to call 24 hours a day, seven days a week. The mental health number has been designed to be the only number you need to call for mental health support in Northamptonshire.
A trained member of staff will find the right support for you, whether this is from the NHS; the voluntary and community sector; or advice over the telephone. To receive support call 0800 448 0828 or visit: www.nhft.nhs.uk/mentalhealth-number
In addition to this, our IAPT Changing Minds service provides free and confidential mental wellbeing support for anyone over the age of 17 and a half and living in Northamptonshire. Every month the team helps over 1,000 people in Northamptonshire who are feeling isolated, overwhelmed with stress, low in mood or have mild to moderate depression and/or an anxiety disorder. You can access the service yourself online at www.nhft.nhs.uk/iapt via a short online form or via the phone on 0300 999 1616 (9 to 5 weekdays).
If you have not been feeling yourself lately, and unsure how to reach out for support – our teams are here to provide advice. Contact us today and we put the steps in place to get you back to feeling like you again.