Reflections on leadership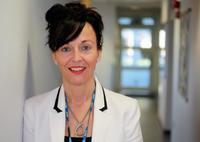 Angela Hillery, Chief Executive of Northamptonshire Healthcare NHS Foundation Trust and Leicestershire Partnership Trust, has been named as one of the top 6 Chief Executives in the country by the Health Service Journal.
The focus of the HSJ judges this year was very much on the behaviours shown by the chief executives under consideration and how these exemplified the values of the organisations they lead. Judges were also looking for evidence that chief executives were working in a collaborative way, thinking about the system rather than just the organisation they lead.
On receiving the news Angela Hillery, said: "I am delighted to be named as one of the top 6 Chief Executive's by the HSJ, mainly as this reflects on the positive culture and hard work of everyone here at NHFT and across the group model with Leicestershire Partnership as well.
"Positive and supportive leadership is one of the reasons we were rated Outstanding by the CQC and were able to navigate the challenges of the last two years. I believe everyone in NHFT is a leader, regardless of role or position in the organisation. We are all working together, focused on making a difference for, and working with our patients, service users and carers.
"It also extremely important that we continue to work closer across the system as we move towards the establishment of the Integrated Care System (ICS) in Northamptonshire, ensuring care decisions are based on the needs of the individual, not made based on organisational boundaries.
"I would like to say thank you to every member of team NHFT who makes a difference every single day."
Crishni Waring, Chair of NHFT, added: "The need to collaborate and work in partnership has never been greater, as we continue to work through the pandemic and focus on the challenges to come. Angela continues to be a fantastic leader for us here at NHFT, guiding the way forward and demonstrating the values and behaviours we are all committed to living by. It is brilliant that she, and the Trust, have been recognised in this way."