NHFT teams up with the Cobblers this Mental Health Awareness Week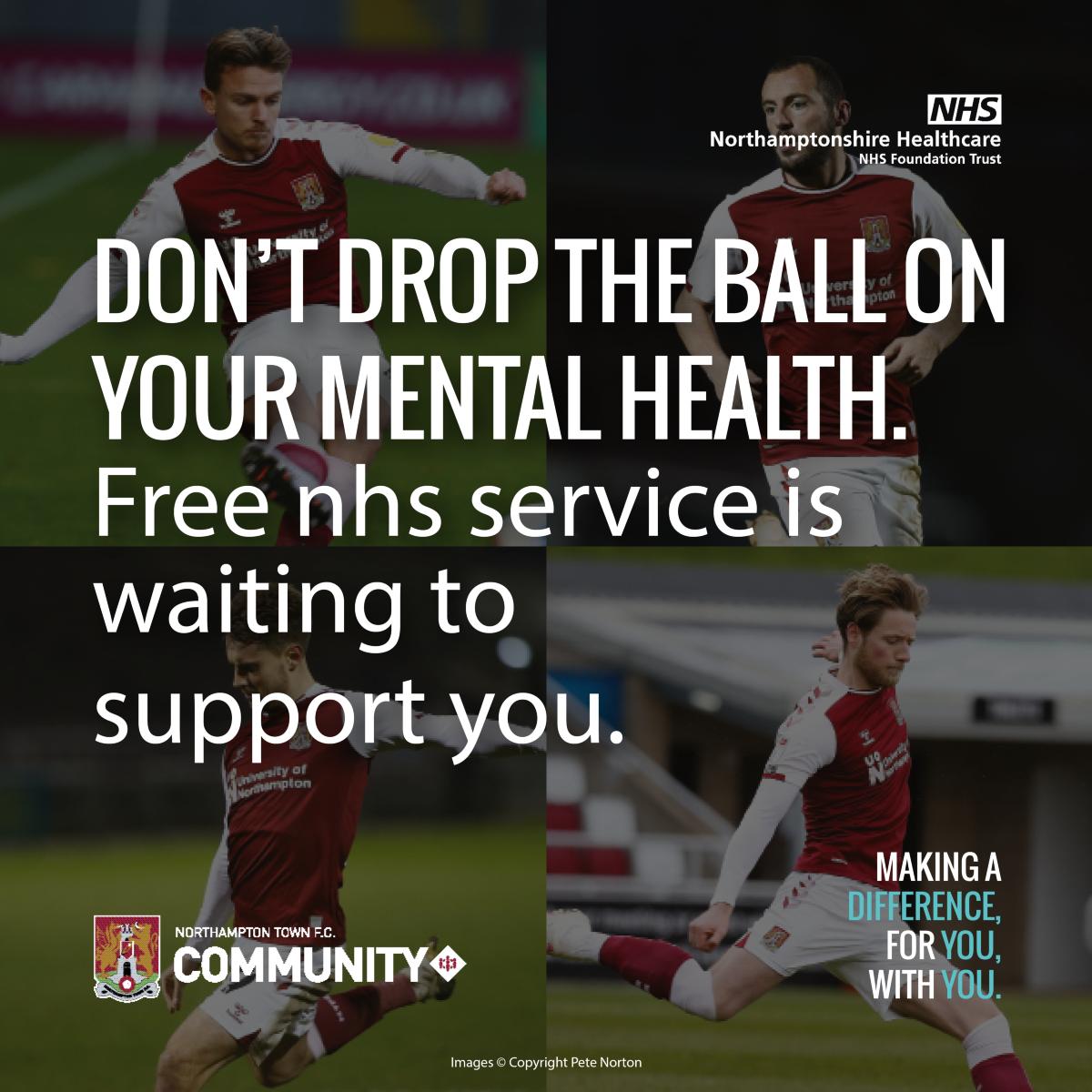 Northamptonshire Healthcare NHS Foundation Trust (NHFT) and Northampton Town Football Club Community Trust (NTFCCT) have teamed up this Mental Health Awareness Week (10 - 16 May) to raise of mental health difficulties and encourage conversations about mental health in order to break down barriers and stigma.
NHFT and NTFCCT are launching a campaign, supported by players, to raise awareness of men's mental health – sharing their own experiences in a bid to encourage anyone who might be struggling to reach out for support.
Both organisations are working in partnership to signpost to local support services, and colleagues from Changing Minds IAPT will be working alongside to provide mental wellbeing guidance and support.
Northampton Town Football Club Defender, Fraser Horsfall, said: "Prioritising your mental health is just as important as looking after your physical health. Making sure you care for both helps you lead a happy and healthy life."
Feeling constantly tired, not interested in day to day things, unmotivated and stuck in a rut can all be signs that you could benefit from some support to help you to feel like yourself again.
NHFT's Changing Minds IAPT will work with anyone over 17.5 years, registered with a Northamptonshire GP surgery to ensure that you receive the right support. The free NHS service is accredited to clinical, evidence based guidance. Support is available either over the phone, face to face, or online whether it's one to one or in a group - in a way that best suits you, with a range of information to take away and use in your own time.
Anne Rackham, Director of Mental Health at NHFT, said: "Raising awareness of mental health is vital to breaking down barriers and encouraging conversations about how we're feeling. We are pleased to work with Northampton Town Football Club to discuss men's mental health and share the important message that it is okay not be okay and reach out for support.
"We provide confidential services, aiming to put you at ease and work with you to make sure that you receive the right support. The team will work with you to provide support that is right for you – and will work with you to understand your choices."
Northampton Town Football Club Community Trust, the official charity of the club, their mission is to connect communities and improve lives. They run a range of projects across the town and county to engage young people and adults and deliver a variety of mental health projects for adults using football as the starting point, with the emphasis on the social side and general well being. To find out more about programmes and sessions visit: www.ntfccommunity.co.uk
If you're experiencing low mood or feeling anxious, you can sign up to be contacted by the Changing Minds IAPT service to find the right support for you by clicking here. For round the clock mental health support contact the Mental Health Number please ring: 0300 330 1011 (open 24 hours a day, 7 days a week) or visit: www.thementalhealthnumber.me