Celebrating the value of our NHS Volunteers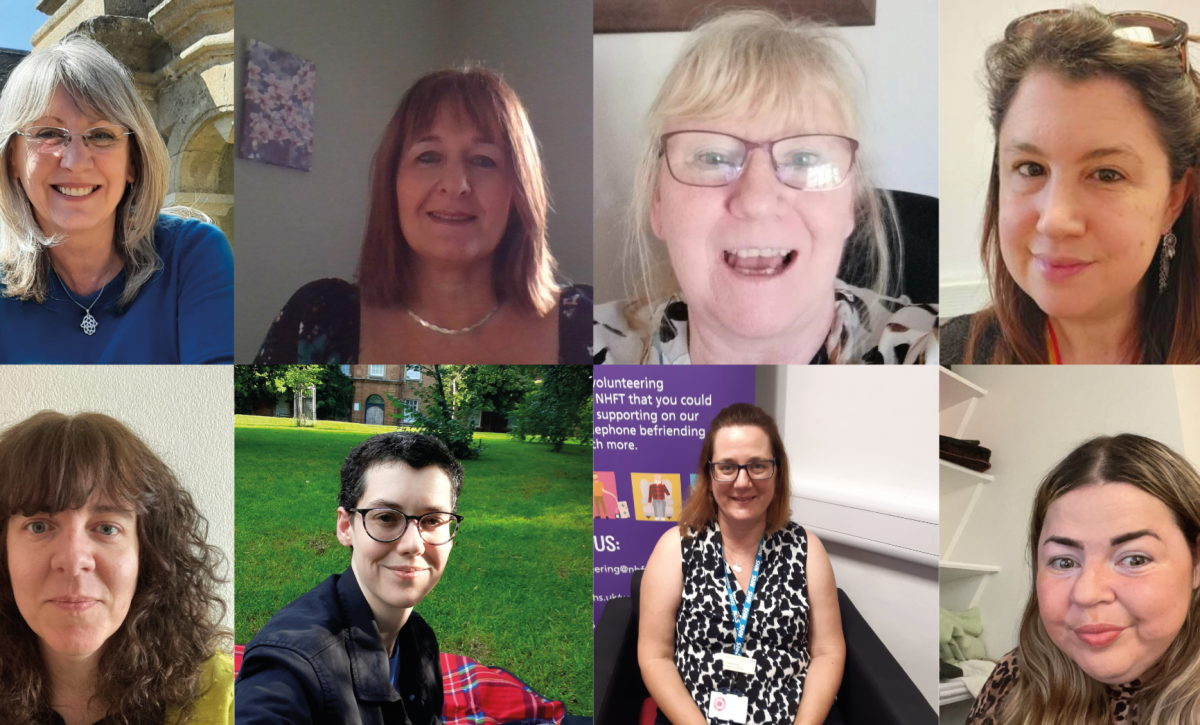 Today, Wednesday 1 June sees the start of National Volunteers week, running until Tuesday 7 June. At NHFT, we like to use this week as a great opportunity to celebrate and thank our incredible volunteers for the enormous value that they bring to the Trust, our staff, carers and patients.
Our Voluntary Services team works with both volunteers and services across the Trust to provide resources and support across a range of different areas. One of our teams of volunteers work in the Mental Health and Community services areas, in roles from ward assistants to gardeners whilst another team support the Hospices carrying out roles in anything and everything from driving to housekeeping. We even have a team of complementary therapists delivering massage, reflexology and reiki amongst other complementary therapies to patients.
Our Telephone Befriending service is also supported by volunteers, this service was shortlisted for a national HSJ (Health Service Journal) award earlier this year, for their support of individuals in need of support and companionship, initially during the pandemic. This work has saved lives and has supported over 200 individuals with more than 7000 calls since March 2022, an incredible achievement, making a real difference to service users.
Finally, we run the "Volunteer to Career" project, a new stream of work which creates a pathway for people interested in working in healthcare, who have not had the opportunity due to lack of experience or just needing a more gradual entry route. This year, one of the Trust's long-term volunteers secured a permanent role in another NHS Trust, which is a great outcome for this individual, along with other volunteers who have also gone on to get paid work through this pathway.
National Volunteers week is a chance for us to say a huge "thank you" to the amazing volunteers, for the difference they make across our Trust and in our communities and for their dedication and commitment. It also provides us with an opportunity to reward long service achievements, which will also be celebrated during this week.
Mandy Woolf, Service Manager for the Voluntary Services team at Northamptonshire Healthcare NHS Foundation Trust said; "Voluntary Services work with over 300 volunteers in many different services across the county. Many of our volunteers get involved having used our services and seen for themselves the benefits. They want to give a little bit back and support staff to give the best patient experience. Others are interested in a career in healthcare and volunteering is a great way to gain experience and improve their chances in the job market.
"This year, four of our volunteers are celebrating reaching 20 years of voluntary service, with many more having over five years of service with us. This is an exceptionally valuable contribution. We will also be recognising those who have completed their first year of volunteering with us and hope to continue these relationships.
NHFT is hosting an open event for anyone interested in becoming a volunteer, this will cover topics such as:
What is volunteering
How to become a volunteer
A bit about what services get from having volunteers
How volunteering can lead towards paid work
We have just discussed adding in the video about the Befriending service
If you are interested in attending the event on 7 June at 2-3pm, please email foundationtrust@nhft.nhs.uk to book a place.