CQC inspection outcome 2019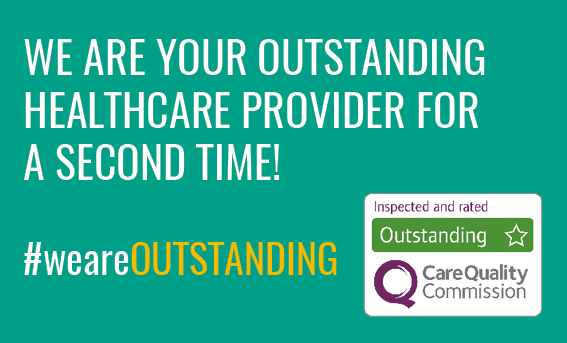 Northamptonshire Healthcare NHS Foundation Trust (NHFT) has been rated Outstanding overall for the second time, following its recent CQC routine inspection.
During September-October this year the CQC inspected NHFT services and found they were well-led and caring, giving the highest rating possible of Outstanding overall. The CQC highlighted that:
The trust continued to deliver high quality, safe services across the five mental health services inspected
There was a strong focus on patient and staff safety as a priority agenda
There was a strong culture of openness, honesty and learning. There was evidence of sharing practice with others, and an ethos for embracing constant opportunity for learning and improving
The trust had continued to prioritise their values in every interaction every day, and the culture of staff in the trust was one of kindness, teamwork and pride to work for the organisation
Quality improvement was embedded around the trust. The trust consistently encouraged and supported staff to innovate and develop new ideas
Staff felt valued by the trust, their managers and by each other. There was an emphasis on staff well-being and leaders saw this as a priority focus for those who worked at the trust.
Angela Hillery, Chief Executive at NHFT said: "We are delighted to have maintained our Outstanding rating for a second year. The rating and the comments in the CQC inspection report really reflect how dedicated our 4,500 colleagues across adult and children's services, mental health and corporate services are to providing outstanding, compassionate care each and every day.
"This is great news for everyone living in Northamptonshire and for our countywide health and care system. Looking ahead to 2020, this outcome puts us on a good footing as we continue to work ever closer with our partners for the benefit of the communities we serve.
"Whilst we are incredibly proud of this result, the CQC also highlighted areas for improvement. We welcome this opportunity for learning and we are committed to continuous improvement and patient safety. As such, focus on the areas highlighted has naturally commenced."
Dennis Holland, NHFT service user and involvee said of the news,
"I'm not at all surprised that NHFT has been rated Outstanding for a second time, this rating reflects everything that I know about the Trust. I come from an NHS family and have worked at a fairly high level in public service and know that the culture of NHFT is unique; it is so positive and rewarding to be part of.
I have worked with the Trust as an involvee and former governor for many years now, after receiving excellent care, and have seen that NHFT is extremely good at involving the public in all elements of its work – the public voice is heard all the way up to Board level. To be rated Outstanding is deeply satisfying because it is in part due to the input of the public, volunteers and involvees who are all very fond and proud of the Trust."
The Trust's CQC report for the routine and well-led inspection has been published and available on the CQC website. The CQC report summarises the findings of the inspection along with a rating for each area.
Full details of the ratings, including a ratings grid, are given in the CQC's inspection report.