World Suicide Prevention Day 2020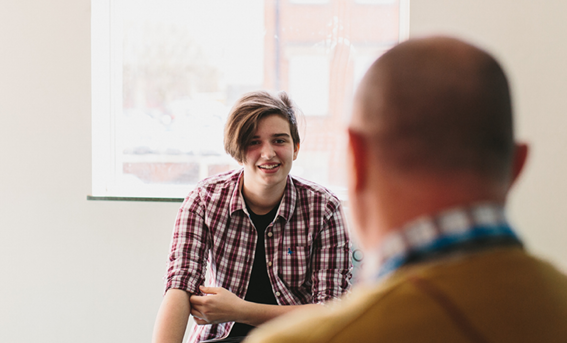 On 10 September each year organisations across the globe come together to raise awareness of suicide prevention, as part of World Suicide Prevention Day. In NHFT, as a provider of a range of services including community and mental health, we want to do all we can to raise awareness and share vital resources to help reduce suicide in our community.
We operate the mental health number which provides support and access to local services 24/7 to anyone in need of immediate advice. Our friendly mental health navigators can be contacted anytime of the day or night on: 0800 448 0828.
During 2019, there were 5,691 suicides registered in England and Wales. Each day, family, friends, colleagues and communities lose someone to suicide, which can have devastating effects. Every suicide is one too many, and there is always a way to prevent this – no matter how difficult things are.
Understanding suicide
Most people who have suicidal thoughts or who go on to act on those thoughts do not want to die. Typically people are in intense psychological and emotional pain, and can see no other solution. They have often lost hope, and feel trapped by their situation or feelings, whether this is a difficult situation in their own lives or painful feelings and emotions. These thoughts can often be brought on by difficult life events, for example the breakup of a relationship, bereavement, financial difficulties, the loss of a job, chronic pain or other physical health difficulties, bullying or stress at work or school, or exam pressures. It is important to remember everyone's lives are different, and there are many complex situations which can lead a person this devastating and difficult decision.
It is important to understand that having suicidal thoughts is not in itself a mental health problem. While having a mental health problem like depression might make us more vulnerable to having these kinds of thoughts it is not the cause.
Some groups of people are more at risk of dying from suicide. For example, men account for 75% of all suicides in the UK, and this has been the case since the mid-1990s. This is particularly true for middle-aged men. Other groups are also at higher risk – such as those with a history of drug or alcohol abuse, people experiencing mental health difficulties, people who are unemployed, and people who feel socially isolated. However, anyone can be affected by suicidal thoughts, and the vast majority of them do not go on to take their own lives.
How can we help to prevent suicide?
Everyone has a role to play in preventing suicide within our communities, and each and every one of us can make a difference if someone near to us is experiencing difficulty.
Talking about it
Although changes are being made in our society, talking about suicide is often still a taboo subject. People often feel ashamed if they have suicidal thoughts, and may not know where to turn to for advice and help. If as a whole community we can begin to talk about suicide more openly, and feel less afraid to ask and talk about suicide then we will begin to reduce this stigma and make it easier to reach out for help.
Reach out
If you're worried about someone, reach out to them today. Many people who have experienced suicidal thoughts or behaviour say that it was the kindness, compassion and humanity of those around them that made the difference. Often people experiencing suicidal thoughts say that they feel isolated, uncared for and cut off from the world around them. Show them that you care about them, that you are willing to listen and push through the taboo of talking about suicide.
Developing a safety plan
It can be helpful to develop a "safety plan", or to help someone else to do this. While we may experience suicidal thoughts over a short or longer period of time, research tells us that the urge to act on these thoughts usually only lasts for the relatively short time of a few hours. If we can make a plan to help us hang on, and keep safe during these times, we can help someone stay safe from suicide. There are a number of resources below that can help with this, and the "Stay Alive" app includes a digital version of a safety plan that can be done individually or with the support of someone else.
Get talking
The main aim of the day is to get people talking and thinking together about what we can do as communities to help prevent suicide. There are many excellent ideas on the website, which you find by visiting: www.nspa.org.uk/home/our-work/world-suicide-prevention-day-2020-2
To find out more about suicide prevention please visit: www.nhft.nhs.uk/suicide-prevention