University event showcases mental health support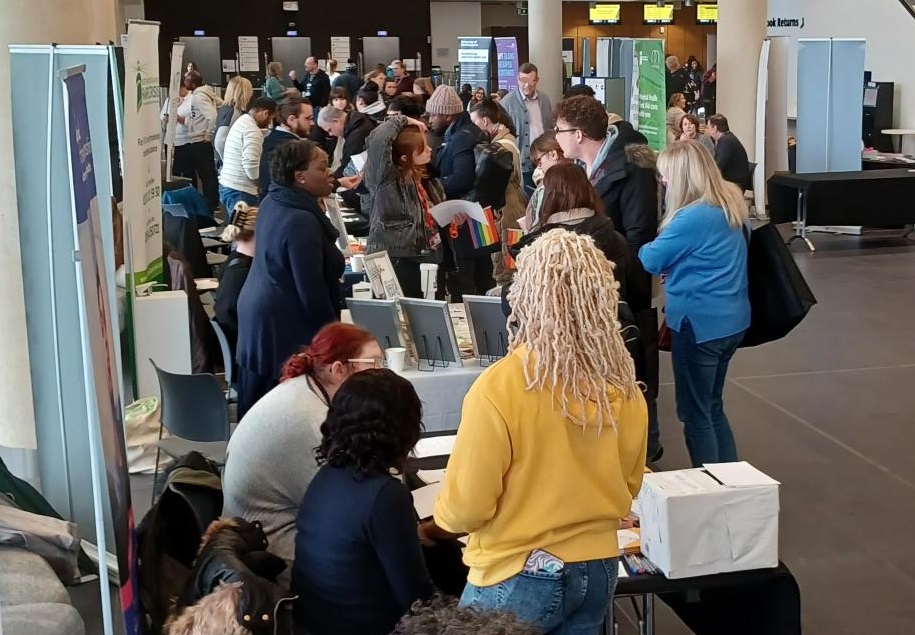 Students were given a host of information at a special event at the University of Northampton putting mental health front and centre of the agenda.
The University of Northampton was among the many universities and colleges across the UK joining together to focus on mental health during University Mental Health Day on Thursday 9 March 2023.
The annual event helps support student communities and ensure that students know where to access the right mental health support for their needs.
Northamptonshire Healthcare NHS Foundation Trust (NHFT) were among the many organisations and charities that had stalls at the University of Northampton for students to get advice and support.
NHFT had stalls showcasing its Recovery College which offers wellbeing courses, Talking Therapies which offers one to one support, NSTEP (pictured) which helps treat early psychosis, Eating Disorders, and Crisis Pathways which includes Crisis Houses and Crisis Cafés.
University Mental Health Day makes it a priority to discuss issues that could impact on their mental health and what support is available.
Students and staff at the university were also invited to attend Suicide Prevention and Awareness Training presented by Lisa Pearson and Andy Willis from NHFT (pictured with students and University staff) which provided an opportunity to share the importance of good conversations around suicide, as well as where people can go to get help if they need it. It follows on from suicide awareness training, earlier this year, with players at Northampton Town Football Club.
Lisa Pearson, NHFT's suicide prevention lead, said: "University is often the first time away from home for many people and it can be a difficult time if you're struggling with your mental health. The University of Northampton does some fantastic work to support students with their mental health, so it was really positive that we were invited to share advice on how to look after yourself and to recognise the warning signs in others and what questions to ask if you do."
Jo Lester, UON Counselling and Mental Health Team Leader, was part of the team organising the event. She said: "Despite the weather, we were delighted to welcome 22 external organisations and teams, and 15 University teams for our annual University Mental Health Day. Stallholders reported positive interactions with our staff and students, and enjoyed the networking opportunity this event provided. We enjoy the opportunity for raising awareness of the support available locally, promoting culture change, and encouraging conversations about mental health. It is such a positive event to run."
Other charities and organisations attending the event included En-Fold, Bridge, Action for Happiness, MIND, Northamptonshire Rape Crisis, Northamptonshire Walks, NISHH (Northamptonshire Integrated Sexual Health and HIV Service), PAT dogs, Ark Farm, The Lowdown, We Mind and Kelly Matters and Young Carers.
Find out more about University Mental Health Day at www.unimentalhealthday.co.uk
Find out more about Suicide Prevention at www.nhft.nhs.uk/suicide-prevention and NHFT's mental health support at www.nhft.nhs.uk