TeamNHFT celebrates International Nurses' Day 2021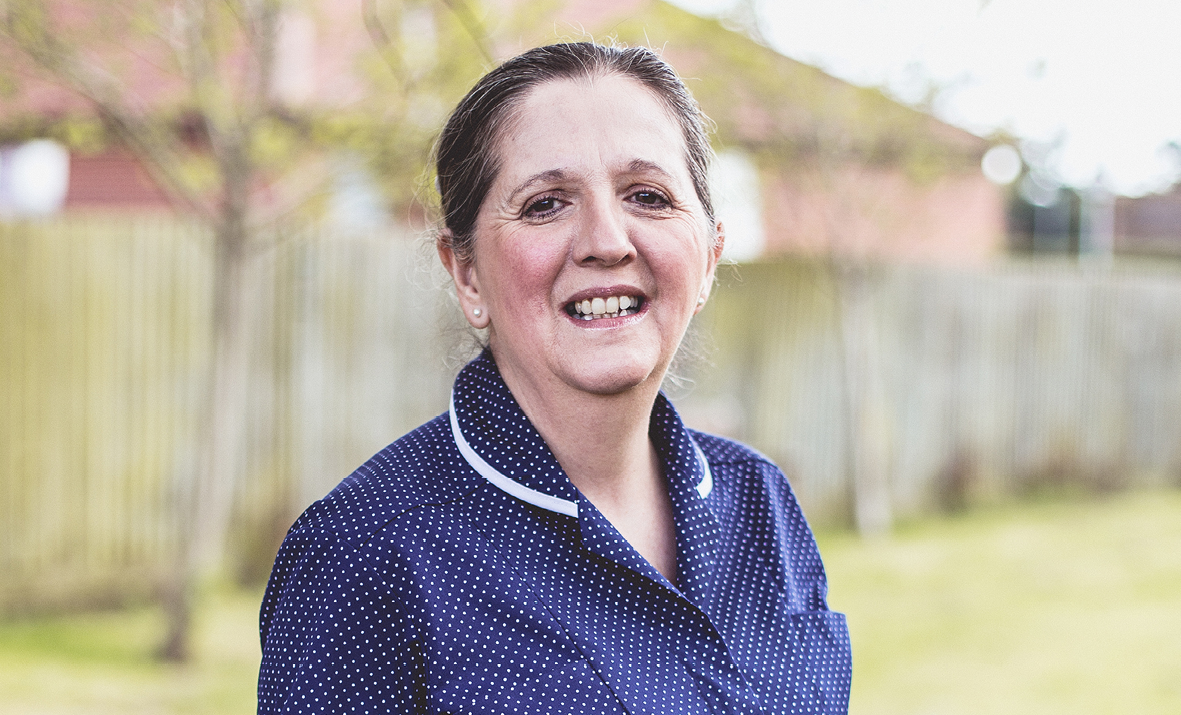 Northamptonshire Healthcare NHS Foundation Trust's (NHFT) is proudly recognising all the work that its nurses do on International Nurse's Day 2021. NHFT's nurses provide vital care and support for so many of Northamptonshire's residents and beyond, making a difference each and every day.
There is huge range of nurses working in NHFT including nurses working in secured services, community nurses, school nurses and health visitors, learning disabilities nurses, mental health nurses both in the community and in our wards , specialist palliative care nurses, infection prevention control nurses, nurses working in community beds, specialised children's nurses, Children's mental health and many more– the wide array of skills NHFT nurses bring benefit to all they meet.
In advance of International Nurse's Day, NHFT Chief Nurse Julie Shepherd and the Trust's senior nursing team asked a number of nurses what their proudest moment was during the COVID-19 pandemic.
Grace, School Nurse in Northampton, said, "I've been thinking a lot about what I'm most proud of over the last year – and it's about being part of something bigger. Usually we work very closely within our individual teams, but during the pandemic everyone has had to pull together to get the best outcomes for our population. We've shown how resilient we are and how transferrable our skills are; I was redeployed to Danetre hospital to support Community beds, and at the same time we were working hard to innovate and adapt so we could still support our vulnerable families and children through the school nursing team. The good things that have emerged from this difficult time will remain."
Also this week, Julie Shepherd, Chief Nurse at NHFT, was presented the Chief Nursing Officer's GOLD award. Of this accolade, Julie said, "I was so surprised when Ruth May Chief Nurse for England joined the NHFT Exec meeting this week to present the award, it brought tears to my eyes! The award was to recognise my leadership at NHFT in achieving an Outstanding Care Quality Commission rating the last two times the Trust has been inspected, as well as leadership throughout the COVID-19 pandemic. But it's about more than that for me – I couldn't have done any of this on my own without teamNHFT.
I am so proud of each and every one of NHFT's nurses and allied health professionals, as well as the wider Trust. This is real recognition for them and their amazing efforts, I am so pleased to be able to shine the spotlight on our nursing teams and the wider NHFT team today and just want to say a huge THANK YOU to them for the difference they make every day, as well as their commitment to service users and patients throughout the pandemic."
Watch below a video of our fantastic nurses talking about what they are most proud of from the last 12 months, and follow more of our International Nurse's Day Celebrations at NHFT's Twitter account @NHFTNHS.