NHFT volunteer project supporting mental health service users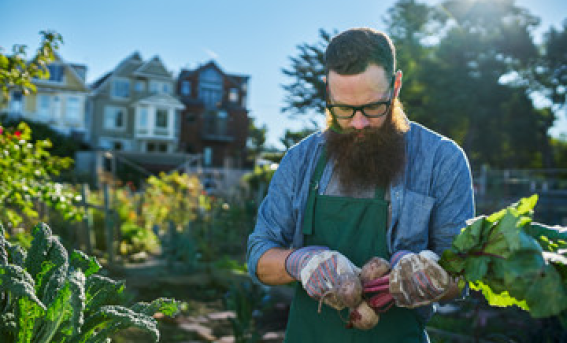 NHFT are supporting mental health service users to find a purpose and a goal when they return to the community by providing volunteering opportunities and support.
Our Volunteering Development Officer has launched a new project for previous mental health inpatients and those soon to be discharged.
They're working with Berrywood Inpatient Services Occupational Therapy and Physiotherapy team who identify and empower patients who would benefit from work roles in the community to enable a successful discharge. The therapy team support patients to identity challenges and benefits and to build the skills required to enable success.
The project is also closely involved with Voluntary Impact Northamptonshire who help to match people with a suitable voluntary role. Since launching in March this year (2018) they have worked with 19 patients on a one-to-one basis and will be continuing to monitor the success of the project from now until September.
Lee Henty volunteers his time at an allotment for service users: "I became a volunteer as it was the pathway to the training required. It all seems worth the hard work when the service users are having a barbecue on a summer afternoon surrounded by giant sunflowers they grew."
Volunteering Development Officer Mandy Woolf said: "The purpose of this project is to provide a stepping stone back into the community for ex-service users and those soon to be discharged. The benefits of volunteering can really aid recovery and wellness in the long term."