NHFT's Patsy wins community hero award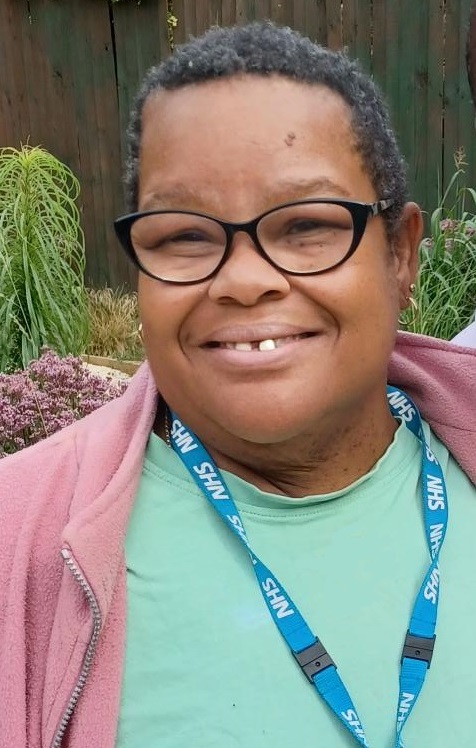 Crisis support worker, Patsy Mckenzie-Wright, who works for NHFT, has received a 'Rose of Northamptonshire' award in recognition of her tireless work supporting communities and marginalised people.
Patsy, who joined the NHS in 2006, received her Rose of Northamptonshire award from Cllr Mike Hallam last week.
The Rose of Northamptonshire awards started in 2021 as part of the Unsung Heroes Initiative, looking to identify and express thanks to groups and individuals who worked tirelessly to keep communities safe, and businesses moving, during the global Covid-19 crisis. They were relaunched this year to celebrate the local heroes making a difference day to day.
Patsy's efforts in raising minority voices, especially from groups who are often marginalised, formed part of her nomination. She regularly speaks up about mental health issues, contributes to community newsletters, and has become a Trustee of the newly registered CLICK Arts Foundation – an East Midlands Charity offering grants to grassroots arts-based projects.
She said: "My parents came to Northampton in the early 1960s from Jamaica, part of the Windrush generation. Family and community have always been important to me. I am passionate about equality in all areas. I am proud to have received this award as it is important that all sections of the community be recognised. I am proud to be a strong, successful black woman and hope I can inspire other young people who look like me."
Patsy is also a community mental health champion, supporting events such as local conferences and wellbeing talk sessions – including a 'Sex, Age and Wellbeing' event on 2 September where she is performing a monologue and speaking about the depth of loneliness.
Patsy said "I cared for my elderly mother, who had dementia, for 15 years, and when she passed I felt a great loss, experienced severe depression and found I had a large void in my life. I joined a choir which led to getting involved in drama – and nine years later I continue to appear in several productions, the latest being Send Me The Pillow, celebrating Windrush 75 at the Royal and Derngate in July."
Patsy added "I try to reduce people's feelings of isolation by sharing my own lived experience. Loneliness is often experienced by those with mental health problems, and feeling truly lonely is rarely understood; it is another important topic that needs to be brought out into the open."
Patsy, an NHS crisis support worker who has lived and worked in Northampton all her life thanked the Rose Awards committee.
Wayne Lawrence, NHFT's Assistant Director of Mental Health Community Pathways, said: "On behalf of NHFT, I want to express my congratulations to Patsy. We are all so proud of her achievement and dedication to the communities she works alongside. Patsy's care and compassion is evident on a day-to-day basis both in and outside her work for NHFT. Well done Patsy, very well deserved!"
She will be speaking at 'Professor Sharron Hinchliff's Age of Love Café – an afternoon of frank discussion to break the stigma around intimacy and aging' at St Crispin Community Centre on Saturday, 2 September 2023, from 2pm to 4pm. Book a place for free at www.eventbrite.co.uk/e/sex-age-and-wellbeing-the-age-of-love-cafe-tickets-681505470207