Birthday event celebrates five years of supporting recovery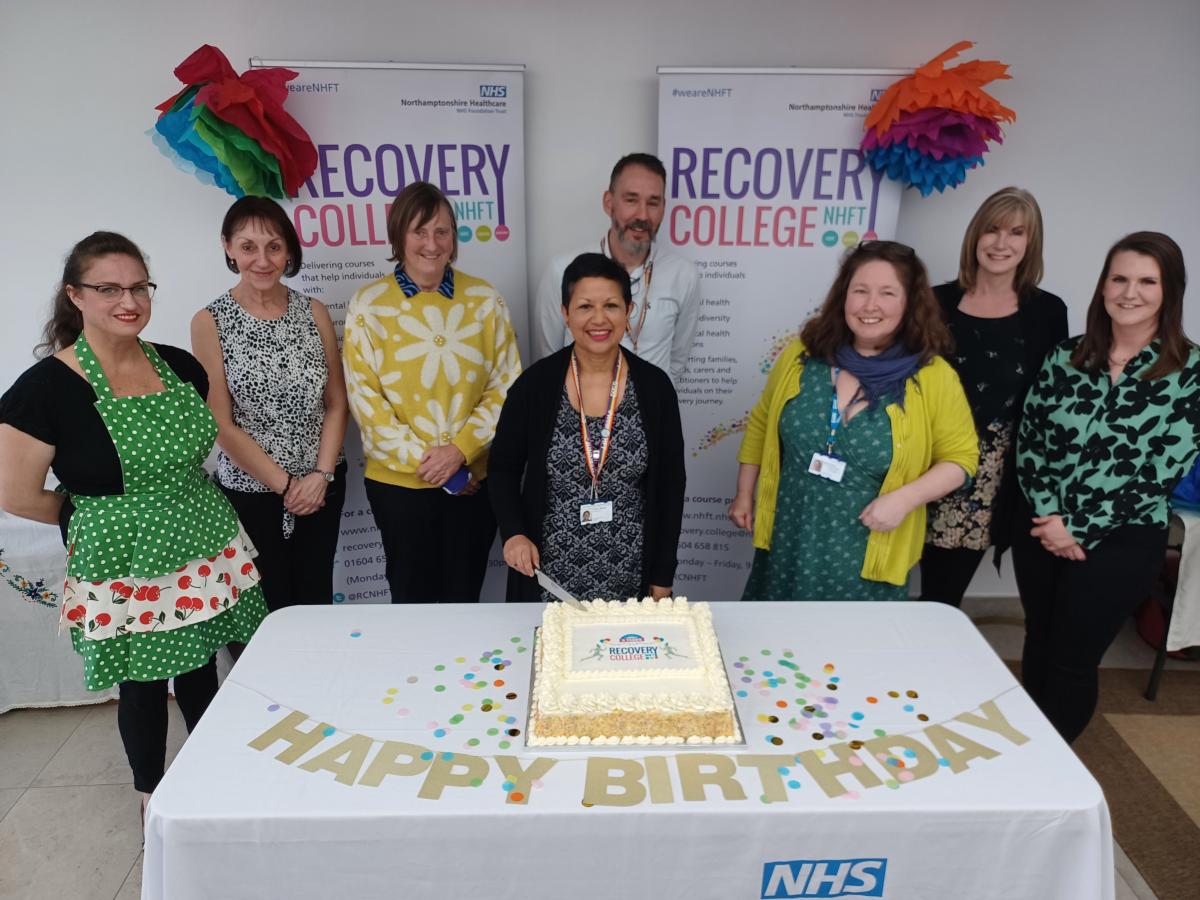 A host of dignitaries and guests joined a special birthday event celebrating five fantastic years of helping people on their health recovery journey.
Recovery College NHFT, run by Northamptonshire Healthcare NHS Foundation Trust, held its fifth birthday celebration on 29 March 2023, at the Sikh Community Centre in Northampton, in the presence of key healthcare professionals, as well as many of those who have benefited from both developing, and attending, the college's well-being courses.
The occasion was an opportunity to thank all those who have helped make the Recovery College such a success over the last five years, as well as a chance to share future plans.
Guests also got to hear emotional personal stories and moving feedback from some of the former students whose lives have been dramatically improved thanks to taking part in courses – some of whom have joined the Recovery College team as expert peer trainers.
Recovery College NHFT, which launched its Spring term prospectus earlier this year and is currently preparing courses for the summer term, offers a diverse range of adult learning courses on well-being, neurodiversity, mental health, and physical health.
Learning topics on offer include mindfulness, autism, dementia, depression awareness and recovery, building healthy habits, making a difference through volunteering, and five ways to thrive, plus lots more. All of the courses are co-produced by a service user or carer with lived experience of the topic, alongside a clinician or trained expert.
Crishni Waring, Chair of NHFT, said: "I was privileged to join the team for their celebration event which brilliantly described the journey of development that the Recovery College has been on. It was also heart-warming to hear stories from people whose own recovery had been aided by their role with the College. It's a fantastic resource for the community we serve and congratulations to everyone who has helped to make that happen."
Approximately 1,625 students are currently enrolled at the College, who have benefited from learning alongside service users, carers and other staff.
Nicola Oliver, service manager at NHFT's Recovery College, said: "This was a wonderful opportunity to celebrate the college and thank everyone who has been involved in helping support our many students, and highlight the big difference it has made, and is making, to people's lives."
All Recovery College NHFT courses are free – with both in-person and online sessions on offer. Courses are available for over anyone over 18 years old who is a current or previous NHFT service user, their family and friends, carers, members of partner organisations, and NHFT staff. People who have been referred to NHFT, but who are currently awaiting treatment, are also eligible to attend the courses.
Find out what courses are on offer, and other information about how to register and enrol, at www.nhft.nhs.uk/recovery-college or email recovery.college@nhft.nhs.uk or call 03000 270470 (phone lines are open 9am-4.30pm Monday-Friday).