New rehab bike to help patients thanks to fundraising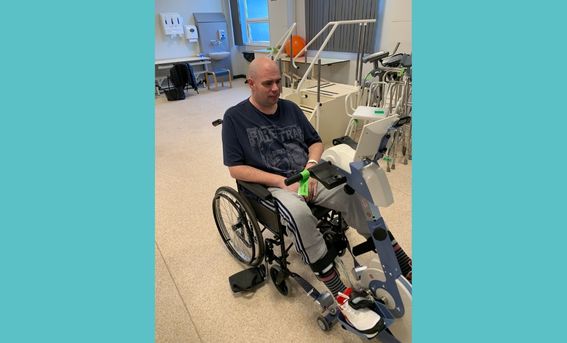 Abseiling, half marathons and mountain climbing are among the fundraising feats that have helped buy a new rehab bike to help patients cycle their way to recovery.
Northamptonshire Healthcare NHS Foundation Trust (NHFT) has introduced the new £8,000 Therabike which is set to help patients suffering from neurological and mobility conditions.
The new equipment, which is being used at the Hazelwood Ward in Isebrook Hospital in Wellingborough, can help with a number of conditions, such as strokes, and improve mobility to speed-up patients' recovery so they can return to doing the things they enjoy.
The static bike is able to give feedback on how much work a patient is achieving on either side of the
body and helps build the strength of arms and legs. The display screen also provides motivation to encourage people to push towards rehabilitation.
To fund the equipment, Northamptonshire Health Charity were approached to help, and staff at NHFT held fundraising events; Mary Boulton (pictured with the Therabike and below) ran two half marathons in Sandringham and Northampton, Alison Lindley (pictured with her son Cameron) abseiled down Northampton's 'Express Lift' tower and Liz Metcalfe (pictured) climbed Mount Snowdon in September.
Michelle Leighton, community fundraiser from Northamptonshire Health Charity, said: "It was very emotional when we visited the ward to see the new Therabike being used by patients. Many of the
patients at Hazelwood have had a stroke or another acute episode of illness which has meant they need further rehabilitation in an inpatient setting before they return home. We saw how the bike was already helping them, and that they really enjoyed using it. This is what I love about my job; seeing the difference that charity funding makes to patients."
Hazelwood Ward is part of the Northamptonshire Countywide Stroke Pathway which includes
Northampton General Hospital, the Community Stroke Team and Northamptonshire Healthcare NHS Foundation Trust.
Mary Boulton said: "It is very rewarding to see the Therabike on the unit, knowing that many patients now, as well as in the future, can benefit through all the hard work Alison, Liz and myself have put in to achieve. I'd like to thank all the sponsors and support along the way to make this happen."
Here's what patients had said about the Therabike:
'Feels like it is working the muscles on my weaker side equal to my stronger side'
'Makes me feel better about myself and makes me what to achieve more'
'I felt it really helped my recovery. It's good to be able to use my legs without weight bearing'
'It definitely improves my mood and gives me a sense of achievement'
'It's like a meditation in a way'
Read more about Northamptonshire Health Charity at www.northamptonshirehealthcharity.co.uk