Leicestershire Partnership NHS Trust and Northamptonshire Healthcare NHS Foundation Trust pave the way with Inclusive Leadership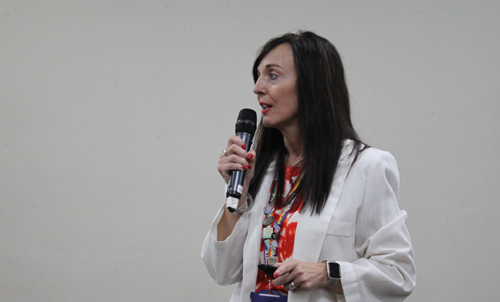 Leicestershire Partnership NHS Trust (LPT) and Northamptonshire NHS Healthcare Foundation Trust (NHFT) are proud to announce that their joint Group Chief Executive, Angela Hillery, has won the Excellence in Executive Inclusive Leadership Award in this year's Midlands Inclusivity and Diversity Award Scheme (MIDAS Awards) which took place on 18 November 2023.
Haseeb Ahmad, Head of Equality, Diversity and Inclusion at LPT, who nominated Angela Hillery said:
"Angela is an extraordinary leader who has immense levels of empathy. The impact of the pandemic and the Black Lives Matter movement spurred her on to make public statements early in 2020 declaring LPT and NHFT's commitment to being anti-racist. She held regular listening events with Black Asian and Minority Ethnic (BAME) colleagues, sponsored the BAME staff Support Network and created a joint strategic Priority for both organisations entitled Together Against Racism."
On being presented with the award, Angela said:
"It is great to personally receive the Excellence in Executive Inclusive Leadership Award, but all achievements are a team effort. I'm proud of what LPT and NHFT are doing together."
NHFT's REACH Staff Network also obtained a highly commended for the Outstanding Staff Network Award for their influence and positive impact on the workplace experience for NHFT's colleagues from ethnic minorities. They have done this by supporting the organisation in being the mouth piece of the Trust's ethnic minority groups. In addition, they have developed strong connections with LPT's network, allowing for shared inspiration and learning.
Emilia Chitenhe, REACH Network Co Chair, said: "We were absolutely delighted and grateful to have been nominated and receiving highly commended is a milestone achievement for the network.
"Our achievements this year have been made possible due to the support of our wonderful allies in the Trust, including our network sponsor Angela Hillery and other members of the Trust execs."
Elsewhere in the LPT NHFT group, two other awards were presented:
Asha Day, Head of International Recruitment at LPT, was awarded the Equality, Diversity and Inclusion Champion of the Year Award for her role in championing various EDI campaigns. She is the Integrated Care System lead for BAME Nursing in Leicester, Leicestershire and Rutland and a member of the Midlands Workforce Race Equality Standard (WRES) Group. In her role as Head of International Recruitment at LPT she has successfully landed several cohorts for staff and as Vice Chair of the British Indian Nurses Association, Asha has supported scores of staff in their OSCE exams
Leicester, Leicestershire, and Rutland Integrated Care System which includes LPT were awarded the Inclusive Integrated Care System of the Year Award for supporting the delivery of Reverse Mentoring which was started pre-pandemic, in 2018. There was recognition that senior leadership needed to understand the lived experience of employees who had poorer outcomes and experiences. Since the first cohort, two further cohorts have taken place and have massively impacted in creating inclusive cultures and approaches within the Leicester, Leicestershire, and Rutland Integrated Care System workforce.
The MIDAS Awards recognises new and excellent ways of working by staff, managers, and leaders across the region, to make the Midlands an inclusive place to work for all staff. The scheme is specifically designed to recognise the good work that is happening here in the Midlands across our health and social care sector.