Rushden Resource Centre officially opened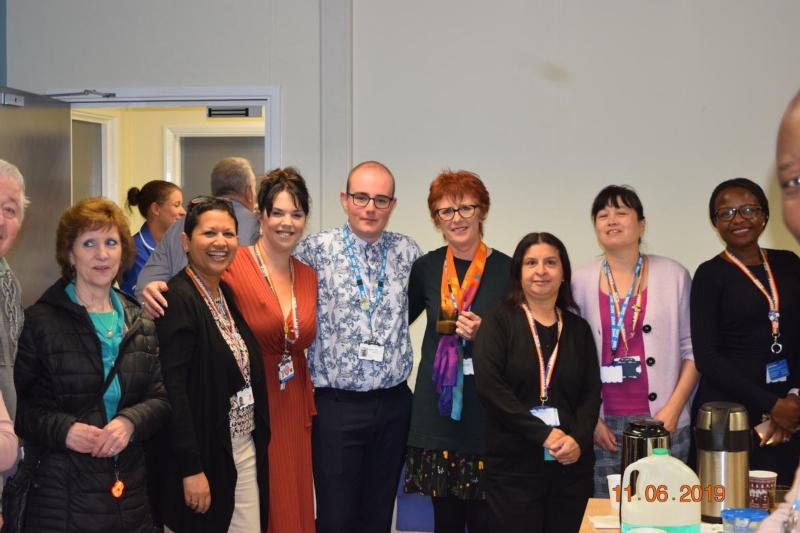 The Rushden Resource Centre was officially opened by Reverend Richard Coles and Chair Crishni Waring on Thursday 12 June.
NHFT has invested in the centre's refurbishment to enable the local community to have improved access to community mental health services. Working to maximise opportunities and to ensure that the Rushden Resource Centre is an environment that is service user, patient, carer and family friendly enables our Trust to make a difference to the local population effectively.
Undertaking the project and collaborating with our staff, service users and carers in the design the dementia friendly centre provides a calming environment for people to receive their care and treatment.
The current NHFT services operating out of the site are the Older Adults Community Mental Health Team, the Memory Assessment Service and the Younger Person with Dementia Team.
Chair Crishni Waring made an opening speech in which she said: "This is a great opportunity for us to maximise the use of the public estate to deliver on our commitment to outstanding locally-based healthcare. The new resource centre will bring a range of services under one roof in a dedicated facility, improving our ability to join up the care we provide to our patients and service users. I was delighted to be able to mark the occasion with the local team who have driven this project forward."
In addition, a Memory Assessment service user said: "My name is Chris Robinson and I was diagnosed with Dementia just over 2 years ago. At that time, I felt devastated about this diagnosis. I attended a group memory course at the Memory Assessment Service. The course was invaluable, the staff helped me to come to terms with my Dementia and supported me to be able to talk to friends and family. I met people that had the same diagnosis as myself and at a similar stage. The group was run by amazing staff that helped me understand how to live with the condition. My wife Sue then did a course on the principles of Dementia care so she could understand more about the condition and we worked together to help each other live with Dementia. I have spoken to new people now on the group, telling my journey to help others to understand that there is life living with Dementia. The service is so valuable and open to all."