NHFT further supports staff by signing Dying to Work charter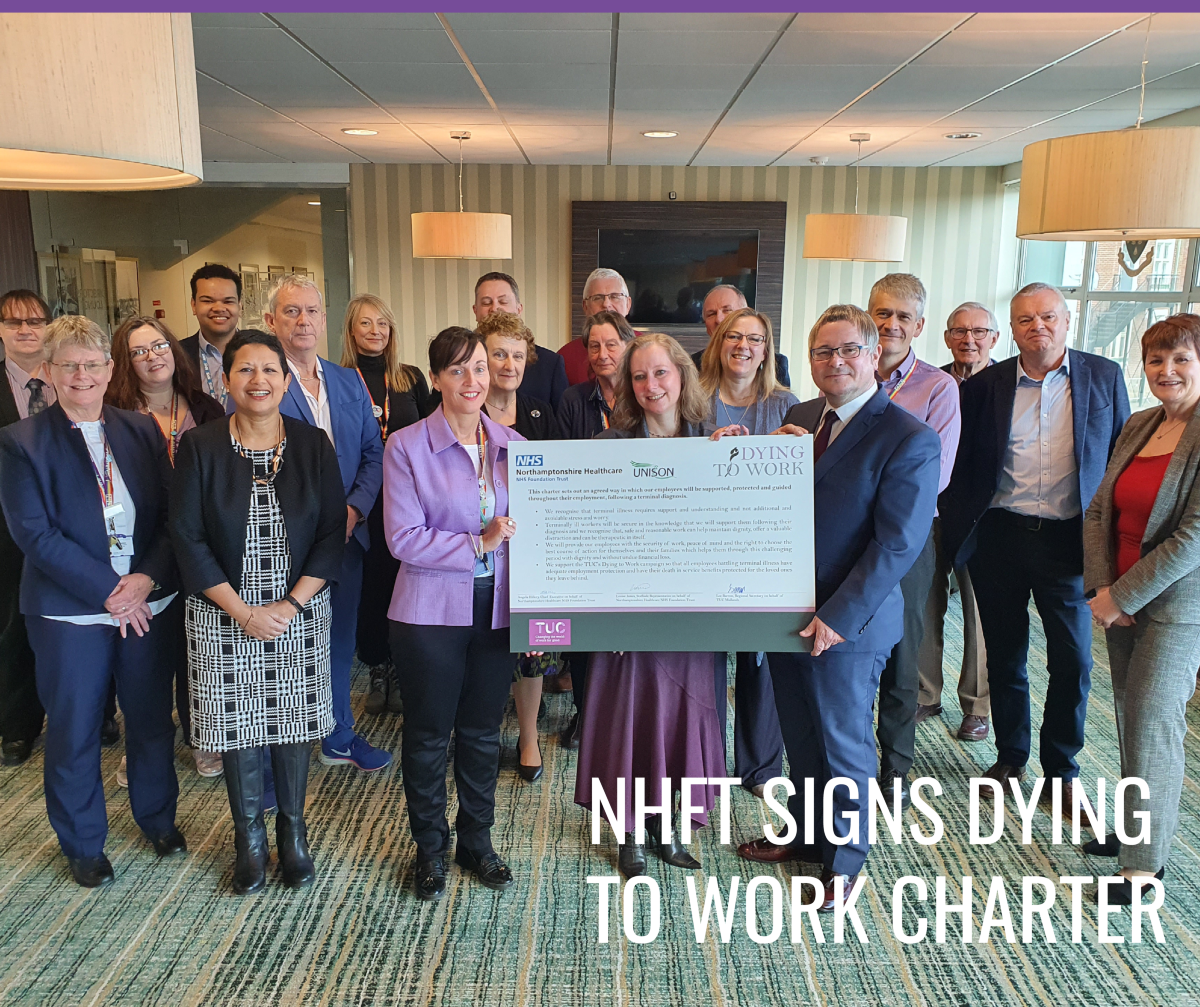 On 12 March, Angela Hillery Chief Executive and Louise James Trust staffside representative signed and committed NHFT to the Dying to Work charter.
The Dying to Work campaign has been developed by the TUC (Trade Union Congress) to support terminally ill employees.
Many workers get a serious illness at some time in their working lives. They may require time off, often many months, to get treatment or recover. However, sometimes there is no effective treatment. In these cases the worker may face a time of huge emotional stress, fear and uncertainty. In addition, sometimes the nature of the illness is such the person is unlikely to be able to work again. There are also times when workers with a terminal diagnosis decide they want to continue working as long as they can. Whichever choice a person makes, they should be able to expect help and support from their employer.
This is where the Dying to Work charter comes in and there are many organisations already signed up to this with over half a million people protected through their signature on the charter.
NHFT is proud to sign up to the Dying to Work charter and is the first NHS Trust in the county to do so.
Angela said: "Signing NHFT's commitment and support to our staff through the Dying to Work charter was easy for us at teamNHFT. We are wholly committed to our staffs health and wellbeing and in times of need too. Being diagnosed with a serious or even terminal illness is a lot to take in and process and here at NHFT we did not want our staff thinking of the extra burden of not earning or working during this difficult and emotional time. By signing the Dying to Work charter our staff can be rest-assured the Trust is there to support them."
TUC Midlands, Regional Secretary Lee Barron, said: "Your job should be the least of your worries when you get a terminal diagnosis.
"I'm delighted that Northamptonshire Healthcare have shown real leadership in this area, working with unions to guarantee fair treatment for terminally-ill workers. We now have a million workers being covered by the Dying to Work charter across the country, and we expect more employers to commit in the coming months."
Angela and Louise were joined by Lee Barron from the TUC who all signed the Dying to Work Charter. This public signing took place before the Council of Governors meeting with many of our governors pictured with the Executive team and Non Executive Directors.