Northamptonshire Partnership Celebrates Pioneering Placements Programme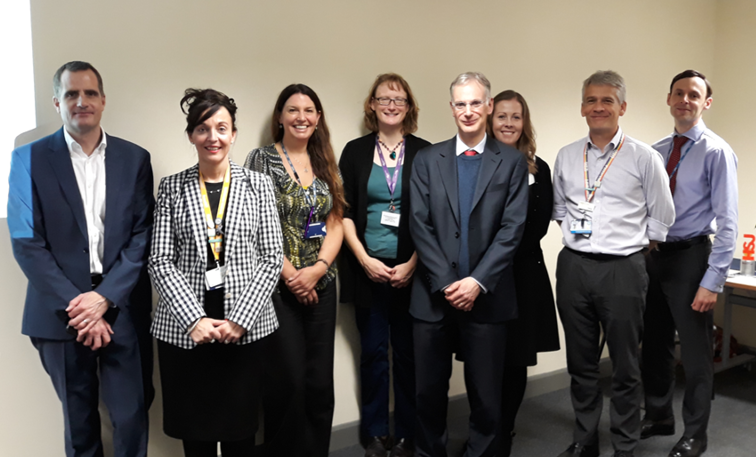 On Wednesday 5th December, NHFT staff and stakeholders came together to celebrate the success of an innovative new approach to providing placements for medical students in Northamptonshire.
The result of a unique collaboration between the 3Sixty Care Partnership (NHFT and 28 GP surgeries from across Northamptonshire), and the University of Leicester's Medical School, the 'Integrated Care Block' gives medical students the opportunity to take placements in a range of services across primary and secondary care. This approach allows students to follow the 'patient pathway', meaning they gain a true understanding of a patient's journey through care. This might include social and third sector services, such as carers or Age UK, as well as being involved in care at GP surgeries and hospital clinics.
The aim of this approach is to allow the doctors of the future to understand care from the point of view of the patient. By following particular individuals and their families through their journey, the students see how people's lives are affected by the conditions they have, and how complex real life can be. Admitting someone to hospital can have a knock-on effect on the people who care for or rely on them, their pets, as well as their physical health. Through these placements, students are made aware of the various services that are available to patients in their communities and homes, to keep them well and avoid admission or re-admission to hospital. They are also taught the importance of treating the patient as an individual rather than just a condition (known as 'holistic care'), and how important it is for healthcare professionals from various different services to work together.
The Celebration Event was an opportunity for many involved in the design and organisation of the Integrated Care Block to come together and appreciate its successes. There was a raft of speakers on the day, including the Head of the University of Leicester Medical School, Professor Richard Holland and NHFT Chief Executive Angela Hillery.
Paula Love, Intermediate Care Community Matron, talked about how the students were encouraged to get 'hands on' during the placement – they joined Community Nurses to visit patients in their homes, were part of practical decisions to reduce falls or readmissions, and assisted with personal care if required. Dr Emma Hayward noted that there is plenty written about the need for 'joined-up care', but very little published about how to actually make this happen. This placement programme is an excellent example of this that could be emulated elsewhere across the country, and Northamptonshire is at the forefront. NHFT Chief Executive Angela Hillery echoed this sentiment – partnerships like this simply do not happen everywhere, and that is something that the county of Northamptonshire can be particularly proud of.