How often do you take notice of your surroundings?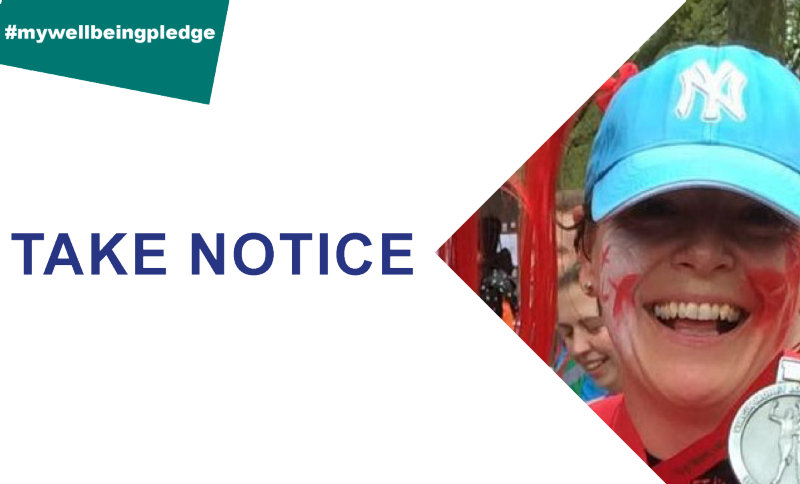 Appreciating the things around you is important. This is one that many of us are guilty of not doing! Life can be so busy, taking a moment to engage with your surroundings and taking the time to reflect can be really helpful to your mental wellbeing.
Mindfulness and meditation is a good way of doing this or even taking part in a photo challenge – a picture a day for 30 days. If you are not sure where to start with mindfulness, but it is something you are interested in doing, you can sign up to an 'introduction to mindfulness' webinar which is completely free, run by the local IAPT in Northamptonshire team. If you would like to learn mindfulness alongside other people out in the community you can access mindfulness in the community.
It can even be doing something as simple as writing a gratitude journal by taking a moment before you go to sleep each night to write down what you have achieved or you are grateful for that day.
Similar to the 'connect' way, asking the question 'are you okay today' to a neighbour, relative or colleague and engaging in a conversation can really help them – it may be that they were feeling low in mood or lonely and you have helped change how they feel.
Anne shares a great example of how taking notice by completing a gratitude journal has impacted on her mental wellbeing:
"Since the middle of 2018 I have consciously focused on practicing gratitude. Taking a few minutes each day to list five things that I am grateful for and why. This helps me filter all the stuff/activity that happens during the day and really focus on the things that matter to me. It could be as simple as finding a car parking space at work, a phone call from a family member or friend, a smile from someone when you greet them, a beautiful sunny day that makes me smile. It doesn't matter if the thing that I am grateful for is large or small, it's significant to me. Focusing on writing down my list at the end of the day helps me stay in a positive mind-set as there are always things to be grateful for no matter how challenging the day.
"Practicing gratitude helps me protect and maintain my mental health. It allows me to focus on the things that really matter, take notice of the positives and really be in the moment. Many days can be tiring and challenging but taking a few minutes to focus on the positives helps me to bring balance back. Paying attention to the positives and being grateful reframes my mind-set which for me is one of the keys to wellbeing and helps me changing my mind-set to one of positivity and impacting on my overall happiness."
So why not make your pledge today and take your first step to improving you mental wellbeing? You can find out more about the campaign by visiting www.mypledge.me.uk. You will also be able to make your very own wellbeing pledge online which you can share on social media using the hashtag below.
So make your pledge today and join the conversation online, it may be that you have different ways of connecting with those around you? if so, we want to hear them! Get in touch via using #mywellbeingpledge.