Gold standard care for patients at Danetre Hospital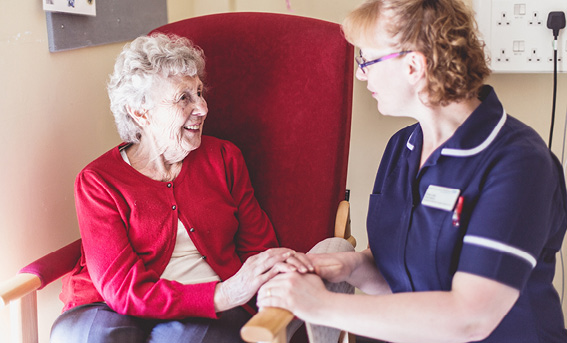 We are delighted to share that three of our wards at Danetre Hospital have been accredited for the quality care they provide to their patients as they approach the end of their lives.
Maple, Sycamore and Cawthorne ward have all been recognised for the work they have achieved supporting patients as they approach the end of their lives and have been awarded the Gold Standards Framework (GSF) Quality Hallmark Award.
This award is for community hospitals and highlights areas that sustain a high quality of supportive care provided for people nearing the end of life.
Members of the nursing team attended the award ceremony on 28 September 2018 in London and were presented with the award (Pictured left to right: Presenter, Patsy Hatfield - Palliative Ward Sister, Jane Marlow – Palliative Assistant Practitioner, Emma Thomason – Rehab Ward Sister and Kate Powell – Palliative Nurse).
To achieve this award, the teams had to provide robust evidence and assurance to prove the correct medicines, planning and advance care planning was in place. Therefore when individuals were in the last year of their life they had the correct support and their end of life wishes were seen too – the right place for the right care. The team reviewed how they identified people who were nearing the end of their life (within a year) stage and implemented processes at the right time for this.
This is the second time Danetre Hospital wards have been presented with this award, with the first time being in 2011 however adaptions had to be met as the award was originally just for care homes and not community bed settings and this time round the accreditation was applied all the beds at Danetre Inpatiet unit, not just the dedicated palliative team.
Rita Reeves, Senior Matron for Community Hospitals expressed how proud she was that Danetre has received this accreditation especially as it reflects the collaboration across the whole team to enhance end of life care awareness and intervention for patients with all long term conditions. Additionally she would like to thank Friends of Danetre for their continued support to the ward which has been invaluable in providing the extra comfort for patients and their families as well as supporting staff with funding additional training.