February IWGC and compliments - making a difference... everyday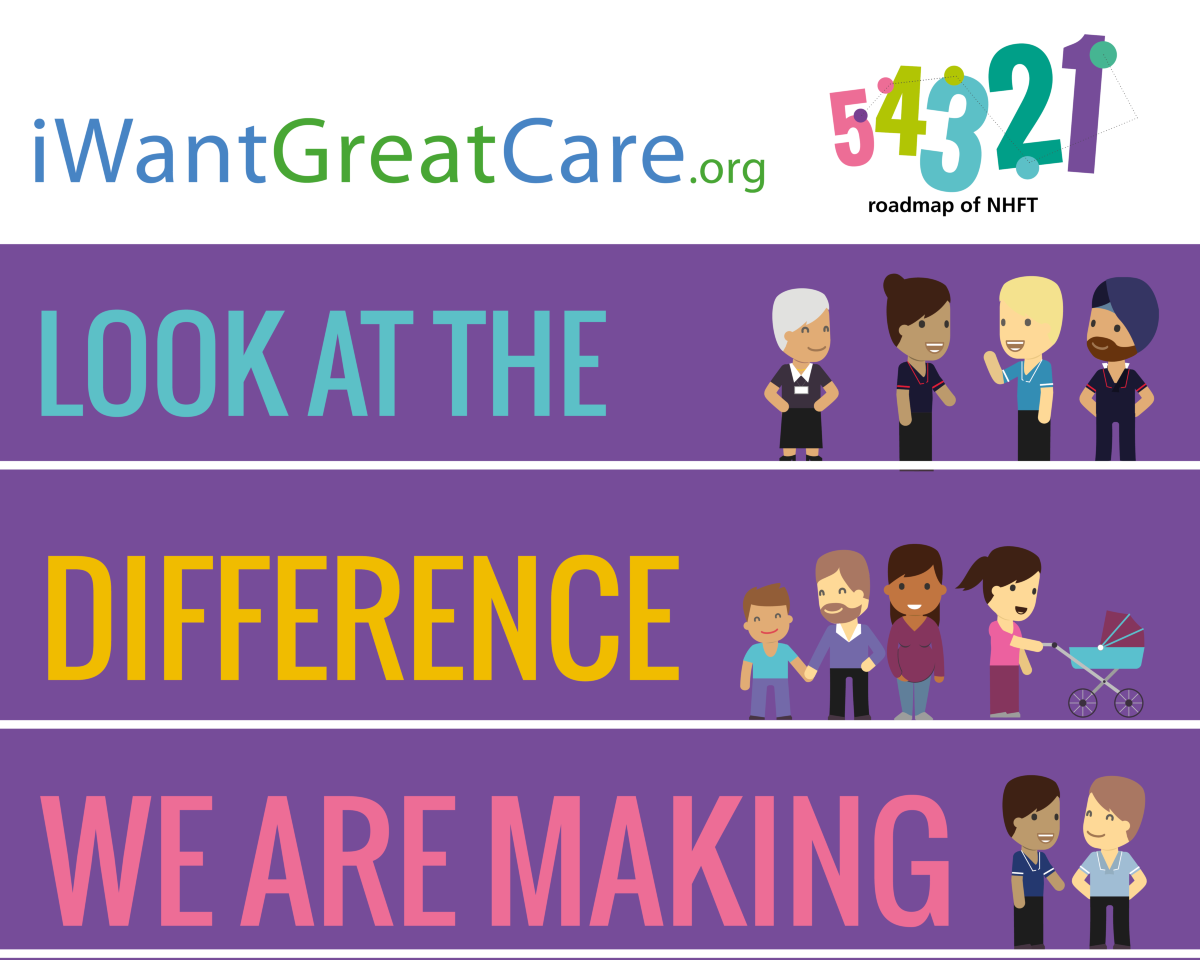 Every month, we are going to bring together the overall I Want Great Care rating for the Trust, compliments received via other methods to our services and teams, as well as some of the positive feedback and quotes we receive from patients, service users and carers every day.
We want to share this 'feel good' feedback with you all, so you can join us in congratulating our staff for making a difference!
In February we received 2,054 pieces of feedback on I Want Great Care which gave us an overall rating of 4.79 out of 5 stars, with 93.4% of patients, service users or carers recommending NHFT as a place to receive care.
We also received 216 compliments in January via other methods! These compliments can be anything from thank you cards to letters and words of praised recorded on our system by individual teams and services. Another great way to showcase the great work our staff are doing in day in, day out.
There is so much positive feedback, we don't have room to share them all. We have highlighted just a few of the amazing compliments and feedback we received in February below:
"We received a letter from a parent of a client that uses our service, outlining all the areas of the 6'cs. She wrote a brief statement under each heading explaining how we all meet the client's needs and provided excellent care."
LD Inpatient Respite
"My daughter is 12 years old and has recently been diagnosed with Type 1 Diabetes. The level of care, advice and support this team has given my daughter and our family has been astounding. We have felt supported with every aspect of learning to control my daughter's condition from the practical aspects of insulin injections, dietary advice and technical assistance to emotional advice and a listening ear when we needed it most. This wonderful team has shown compassion, understanding and kindness at a very difficult time for us and nothing has been too much trouble, Clinic appointments are very much looked forward to as we feel like we are meeting with friends. The atmosphere is light hearted and the staff are always happy and upbeat - exactly what a 12 year old needs to see. Please give this amazing team the recognition they sincerely deserve."
Diabetes MDT
"Sophie! Amazing therapist, gave me the confidence, exercises, support and ability to walk again :-). My low/very low points in recovery were listened to and worked towards. The consistent and professional support was out of this world. Thank you for everything."
MSK Physiotherapy and ESP Team - Nene Park
"Friendly, helpful, supportive, professional. Don't know what we would do without her visits. Very thorough and explains everything."
Specialist Nurisng - Heart Failure Nurse