Shared learnings across local organisations at Northamptonshire's 3rd Tissue Viability Conference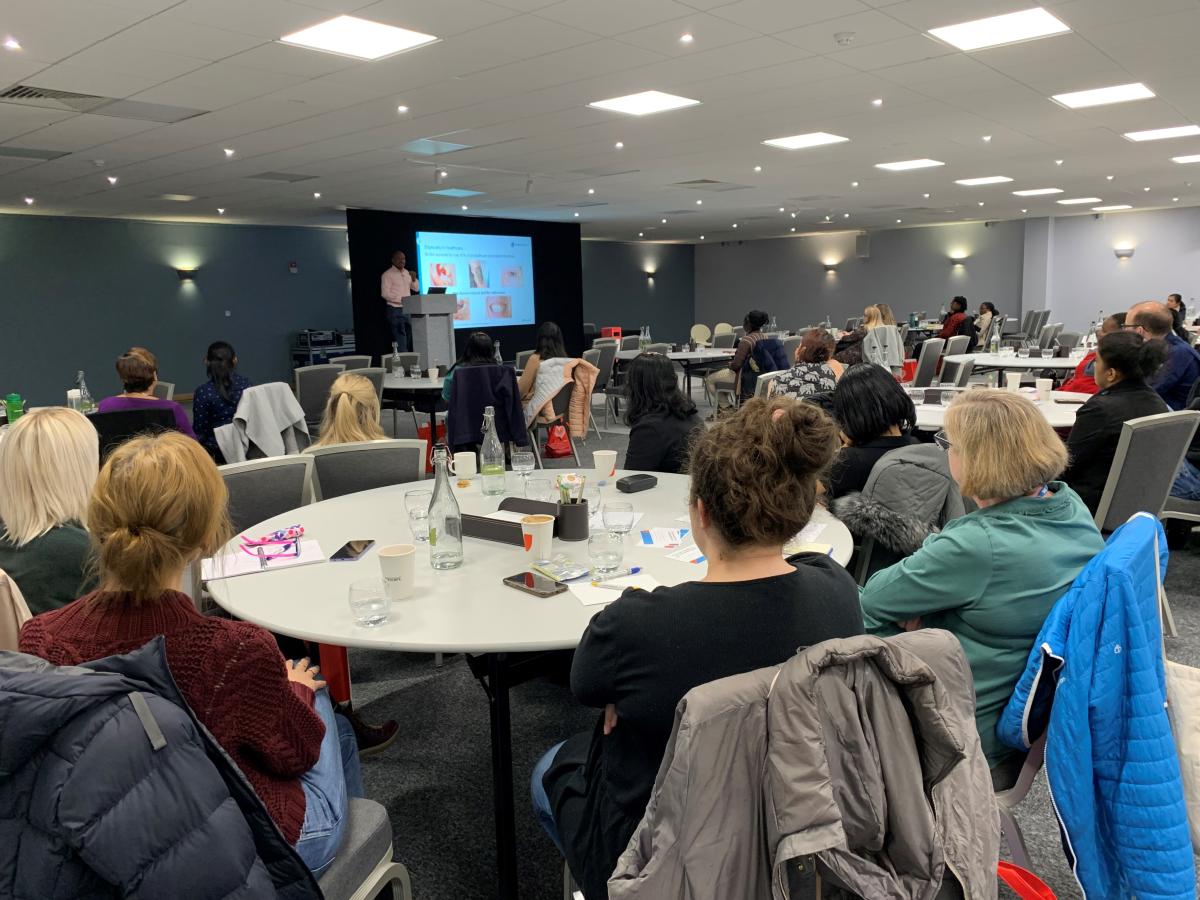 On Wednesday 12 October, Northamptonshire's 3rd Tissue Viability Conference was held at Kettering Conference Centre. The collaborative event was organised by Northamptonshire Healthcare NHS Foundation Trust, Northampton General Hospital, Kettering General Hospital and private healthcare provider Circle Health, enabling shared learning across the organisations.
On the day, they were joined by guest speakers, Tissue Viability Educator Heidi Sandoz from NHS England, Dale Copson from Convatec, NHFT Tissue Viability Nurse Clare Hone and NHFT Continence Prescribing Advisor, Claire Fairbrother.
Wound hygiene is an exciting approach NHFT intend to implement, to address the issue of biofilm in wounds to improve healing. A biofilm comprises of microorganisms and bacteria which are adhering to the wound beds and underlying tissue, preventing the wounds from healing. Tissue Viability Nurse, Clare Hone presented NHFT's successful patient evaluations using wound hygiene.
NHFT Continence Prescribing Advisor, Claire Fairbrother presented on the issue of Moisture Associated Pressure Damage (MASD) and challenged the delegates to consider stepping up the priority of continence management and using the appropriate types of pads. MASD is the inflammation or skin erosion caused by the prolonged exposure to a source of moisture. The skin becomes over hydrated from moisture such as urine, stool, sweat, wound exudate, saliva or mucus.
In the afternoon, there were informative workshops included demos and discussions on a variety of topics including compression bandages, compression wraps, and wound hygiene. The 20-minute workshops rotated to give staff opportunity to attend multiple sessions.
We received some excellent feedback from those who attended the conference. A selection of comments can be found below:
"Very enjoyable day. Learnt lots and was able to increase my confidence in delivery of wound care. Will be able to share this knowledge with the team I work with. Thank you for a great day."
"Model Health System – we are setting up a new unit – will be looking at the system of info & motivation. What a fab day – thank you! Lots of really interesting info, can't wait to be discussing"
"Lots of relevant information for all different areas. All Tissue Viability Nurses and speakers willing to advise and help / refresh. Could have had longer for workshops. Thank you!!"
We look forward to planning our 4th Northamptonshire Tissue Viability Conference in 2023.