Our Jayne named Carer of the Year and a top carer accreditation for NHFT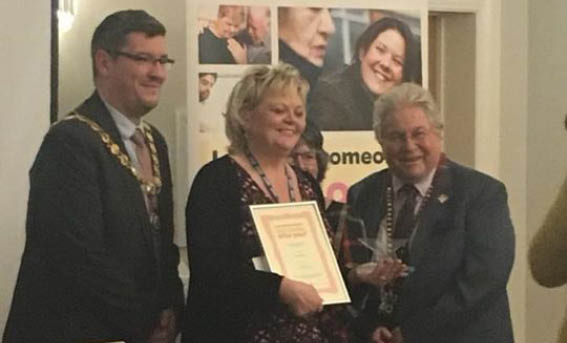 NHFT is celebrating being recognised as a Trust that is committed to supporting staff who have caring responsibilities in their personal lives.
This week Jayne Evans from the Trust won the Jane Roebuck Northamptonshire carer of the Year award and was also highly commended for the Working Carer of the Year award.
Chief Executive Angela Hillery said: "As a Trust we are delighted and privileged to be surrounded by dedicated and hard-working staff who strive each and every day for the outstanding and compassionate care we are so proud of."
At the ceremony on Wednesday the Trust was also presented with a level three accreditation from the Northamptonshire Carers Association.
This is a scheme set up by Northamptonshire Carers to encourage employers to provide better opportunities for carers.
Carer Ambassador for the Trust, Hugh Jones said: "We have demonstrated through our policies and practices that we actively support staff carers to balance their work and caring responsibilities.
"Nationwide and ourselves are the only employers to have achieved this.
"It's all about supporting our staff to provide the best service they can and to reach their full potential.
"It is estimated that one in nine of the national working population has significant caring responsibilities and in our organisation we believe the figure may be higher.
"We are very grateful for the support of Northamptonshire Carers Association and are proud to have been awarded a level 3 accreditation."