Are you feeling the pressure to be social this Christmas?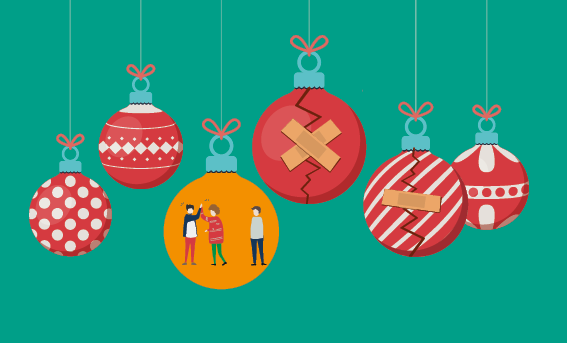 With advent calendars being opened and nothing but festive songs on the radio – it is official, Christmas is well and truly coming. Often this time of year is also full with catching up with friends and social occasions.
But what if you feel under pressure to see everyone but you just want to be by yourself? Then that's okay too. Having a balance over Christmas is important, both social contact and alone time is equally needed. It may be that you plan to go for walk, watch something on TV that you enjoy or read a book. We have included some extra info on this which can support your mental wellbeing or support you to help others during this time of year.
Set boundaries - make sure you have a clear time you are leaving and that everyone is aware that's your plan. This will help you balance the social contact at Christmas.
It is okay to say "no" - sometimes it is important for us to say "no" if a social event is going to put too much pressure on you. Remind yourself, your wellbeing is the priority and anything you are committing to should not be detrimental to this.
Have a balance - make sure you have a balance over Christmas of social contact but also alone time, plan in a walk or watch something that you enjoy on TV.
Have you struggled with social contact for a while? It may be that social contact is something you have struggled with and is not because of Christmas. If so, think about some of the situations when you have felt under pressure to see people. For support with this there details at the bottom to support with this.
Five steps to feeling overwhelmed - think of 5 things you can see, 4 things you can touch, 3 things you can hear, 2 things you can smell and 1 thing you can taste. Then take a deep breathe this will help you re-focus.
Our Changing Minds IAPT team are here to support you, a loved one, friend or colleague in the run up to Christmas. The service is for anyone over the age of 17 and a half and living in Northamptonshire. Contact us on www.nhft.nhs.uk/iapt and complete the short online form or give us a call on 0300 999 1616 (9 to 5 weekdays).
For mental wellbeing support for children or young people please visit www.nhft.nhs.uk/camhslive or they can text their school nurse on 07507 329 600. Check out their Facebook page for more information: @NHFTchildrensservices or Twitter account: @NHFTSchoolNurse