Cobblers' players help highlight suicide prevention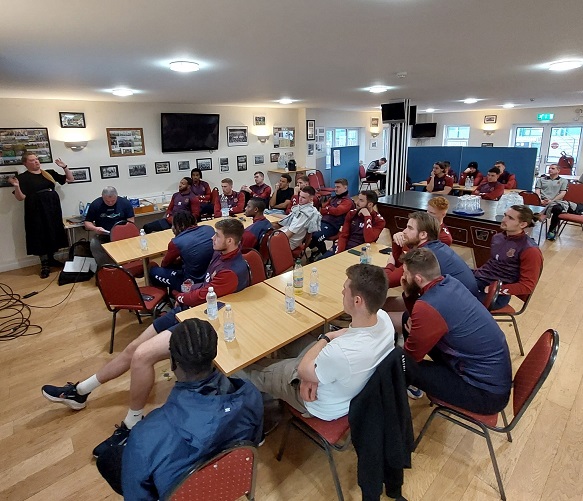 Players from Northampton Town Football Club had a new goal this week – to highlight suicide prevention and how to look out for those at risk.
The squad took time out of their busy schedule to team up with Lisa Pearson and Andy Willis from Northamptonshire Healthcare NHS Foundation Trust (NHFT) for Suicide Prevention and Awareness Training at their practice ground.
The session kicked off with discussions about the importance of good conversations around suicide, as well as where people can go to get help if they need it. It also looked at some of the myths surrounding suicide, as well as who might be at risk and how best to intervene.
Northampton Town's first team players, and support staff, (pictured with Andy and Lisa) took part in the training with many saying how useful it had been.
Cobblers' winger Mitch Pinnock said: "I thought the session was good; it opens everyone's mind up really just to make sure people are okay and, even if you're worried about asking them the question, because it might be a bit personal, it's going to benefit them and benefit you as well."
Last year, a similar session was held with the football club's Academy players, and following on from this latest session, the League Two club, which is currently chasing promotion, is encouraging other sports clubs to take part in Suicide Awareness Training.
Lisa Pearson who runs the training, said: "It's been an excellent session, they've been really engaged; we're really pleased with the opportunity, and are keen to start engaging with as many community and sports clubs as we can. We know that you're more at risk of suicide if you're male, so we just want people to reach out and access our free training."
Suicide is one of the biggest killers of men, with males making up approximately 78 per cent of all suicide deaths, compared to 22 per cent for women.
It's also over 11 years since high-profile Welsh footballer Gary Speed took his own life. His close friend, and TV presenter, Dan Walker recently spoke candidly about the impact it had on him and the importance of seeking help if anyone has suicidal thoughts.
Andy Willis, former service user and trained peer supporter worker who shared some of his personal experiences with the players, said: "It's been a really positive session; the attention of the players and the staff was magnificent and the contributions were really appreciated. It's such an important topic, mental health, and openly sharing and giving support particularly in the area of self-harm and suicide, whilst a complex topic, is one that has to be embraced."
People are encouraged to visit www.zerosuicidealliance.com/training and take part in the free online suicide awareness module, which takes just 20 minutes, and provides the skills to ask about suicide.
Anyone who wants to know more about attending Suicide Prevention and Awareness Training, can contact Lisa Pearson at NHFT by emailing lisa.pearson3@nhft.nhs.uk
For more information about suicide prevention visit www.nhft.nhs.uk/suicide-prevention