About us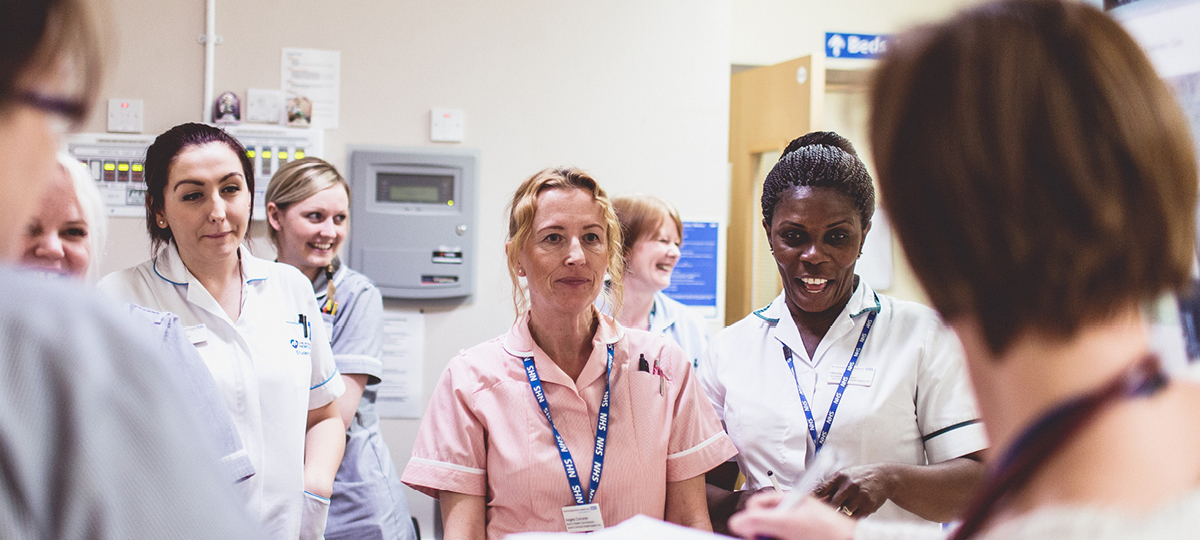 About us
WHAT WE DO
Northamptonshire Healthcare NHS Foundation Trust (NHFT) is committed to making a difference for you with you.
Each day we deliver many of the NHS services people in Northamptonshire receive in the community at home, work or in schools. We offer more than 100 services including mental health, community nursing, sexual health, physiotherapy and a range of others including specialty services. We also work in partnership across the county to deliver care together in an integrated way.
We are proud to be a health and wellbeing organisation that is dedicated to making a positive difference and our strategic and organisational objectives keep safe, quality care at the foundation of all we do every day.
We strive to continually innovate and make a positive difference to our community and those working for and with our Trust, with a collective vision to provide outstanding, compassionate care to the people of Northamptonshire and surrounding areas.
More than 5,000 staff contribute to providing dedicated healthcare for our community, making contact with patients on more than 1.5 million occasions in 2017/18 alone.
Northamptonshire's current population of over 733,000 people is set to rise by 4% by 2030. Of this population, 20.1% are aged 0-15, 62.6% are aged 16-64 and 17.3% are over 65 years old.
Together we strive to make a difference and meet the needs of our changing population. We listen closely to feedback from our service users and carers to make sure our services are diverse, responsive and most of all are delivered with care and compassion every day.
Take a look behind the scenes at life at NHFT in our #weareNHFT video.
OUR TRUST
ADULT, CHILDREN AND YOUNG PEOPLE'S SERVICES
For people over the age of 18, our adult services range from specialist to general healthcare. We work from community hospitals, specialist clinics and care homes, as well as in workplaces and residential homes. From childbirth to end of life care, our services are available across home and school settings, as well as doctors' practices and hospitals. We work closely with our partners and the voluntary sector to ensure we deliver safe, compassionate, high quality services for those we care for, their carers and families.
MENTAL HEALTH SERVICES
We help those living with mental health needs to manage their current health and live independently for a positive future. Our highly experienced, multi-disciplinary teams and expert professionals deliver our care via in-patient environments or in the community. We are focused on working together to make a positive difference. Our services are provided at home or in the community.
RESEARCH, INNOVATION, STAFF DEVELOPMENT AND PARTNERSHIP WORKING
We know that we must keep focusing on the future, while making sure we learn from our past experience. We have a strong research and innovation programme and are leading national innovations in care. We invest in our staff and have a thriving organisational development and training programme. We are also passionate about developing our services in partnership, as we believe we are all stronger if we work together collaboratively. This is shown through our lively patient, carer and family engagement programme. The programme supports volunteering and apprentices, so we can ensure that we do all we can to create pathways of care with our partners – in ways that are right for those we care for.
Supporting the Armed Forces: Serving Personnel and Veterans
NHFT is proud to show our commitment to the Armed Forces through the Armed Forces Covenant, with our initial pledge having been taken in 2017.
The 2 key principles of the covenant are that:
no member of the armed forces community should face disadvantage in the provision of public and commercial services compared to any other citizen
in some circumstances special treatment may be appropriate, especially for the injured or bereaved
NHFT welcomes feedback from our armed forces community to inform and improve services.
Additionally NHFT has been a Gold Award holder for the Defence Employer Recognition Scheme since 2020, confirming our commitment to support for our staff who are veterans, Reserves, Cadet Force Adult Volunteers, and spouses and partners of those serving in the Armed Forces.
If you waould like more information about the help and support available through NHFT, please contact
From April 2023 Statutory Covenant provisions came into force. View the Armed_Forces_Covenant_Duty_Statutory_Guidance.pdf (publishing.service.gov.uk)