Powerlifter Harriet representing Team GB in Romania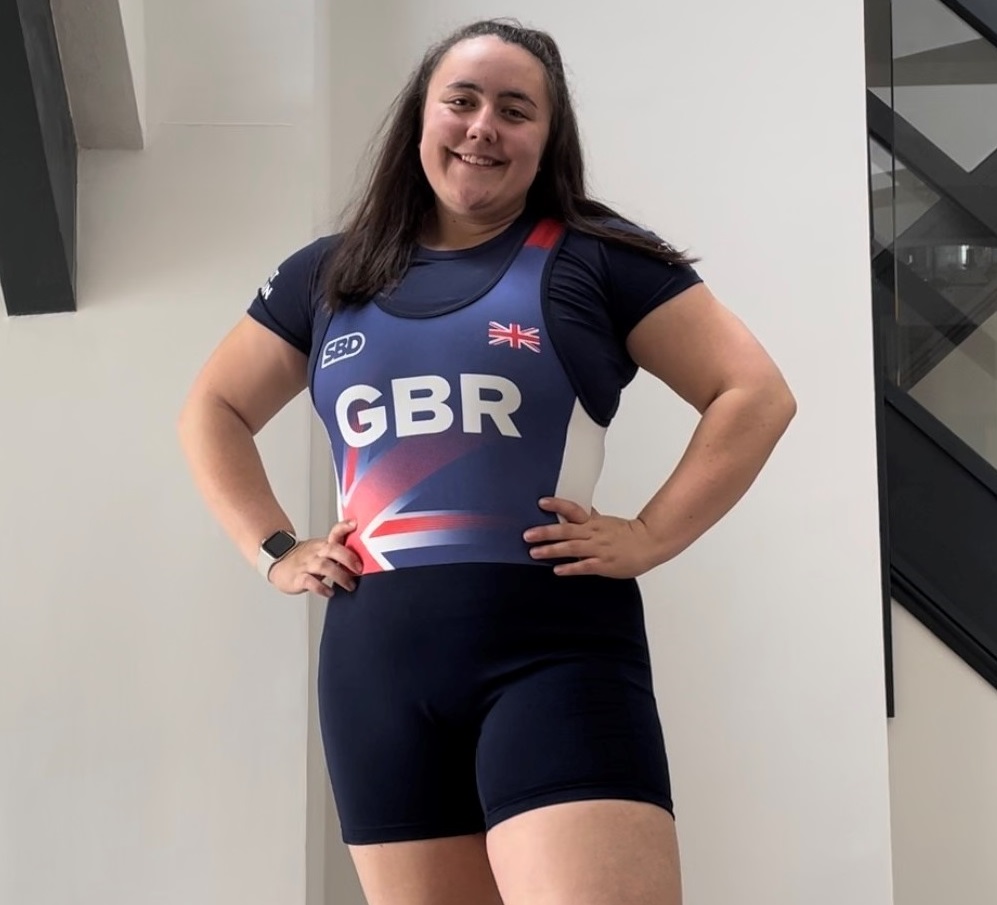 When powerlifter Harriet Waite finally received her Team GB singlet in the post, it was the proudest moment of her life.
Opening it was overwhelming, with lots of happy tears, she said. Now she'll be sporting it as she takes on the best in the world representing Team GB at the Junior World Powerlifting Championships in Romania next week.
The inspirational 22-year-old, from Kettering, who only started powerlifting during lockdown in 2020, has already amassed an impressive trophy haul.
In April 2023, Harriet (pictured) became British Junior Champion, just months after lifting her way to a silver medal at the Commonwealth Powerlifting Championships, in New Zealand, in the under 23s category.
Now she's set to take on the world's best in Europe.
Harriet, who works for Northamptonshire Healthcare NHS Foundation Trust (NHFT) as a senior support worker at The Squirrels in Rushden helping children in respite care, said the championship is going to be the best yet and representing Team GB on the world stage on 2 September 2023 is a "dream come true."
She said: "Wearing the GB singlet has been something I've set my goal on ever since becoming a powerlifter. When it was delivered to my house, I was so overwhelmed opening the package."
Harriet will be flying out to Romania with fellow Team GB competitors and will be joined by her parents who are coming to watch. She'll also be supported by her NHFT colleagues back home.
The championship will be broadcast across the world on the International Powerlifting Federation (IPF) YouTube channel.
Harriet said: "I am feeling really good. I've got my last heavy lifts this weekend, then I'm backing off on the weights and cruising into the competition, making sure my recovery is on top form and that I get enough sleep! I've moved up a weight class, so my diet has been all about nourishing myself and fuelling my training. The mental preparation has been a lot harder. The world championships is the biggest stage you can be on, so I'm making sure all my lifts are up to competition standard."
Not only did Harriet become British Champion earlier this year, she also smashed the British record at the same time, squatting an incredible 201kg, and beating her nearest rival by a whopping 43.5kg. She also benched 90kg – increasing her personal best by 12.5kg – and deadlifted 190kg – smashing her personal best by 10kg.
She added: "Powerlifting is a sport where one big thing is weighed out on lots of different things. Everything in the little chain needs to click together to create the end project. I am excited to go and compete against the best in the world, but I am most excited about competing against myself and beating personal bests. My work colleagues have all been really supportive in keeping me focussed and motivated for training, whether before or after work."
Following the Junior World Powerlifting Championships in Romania, it will be the European Championships in Budapest, Hungary, in the middle of October.
Harriet is also hoping to secure sponsorship, and if anyone is keen to support her in this respect she can contacted on her Instagram page @haz_fitt.