Newly renovated garden is aiding the rehabilitation of patients at Isebrook Hospital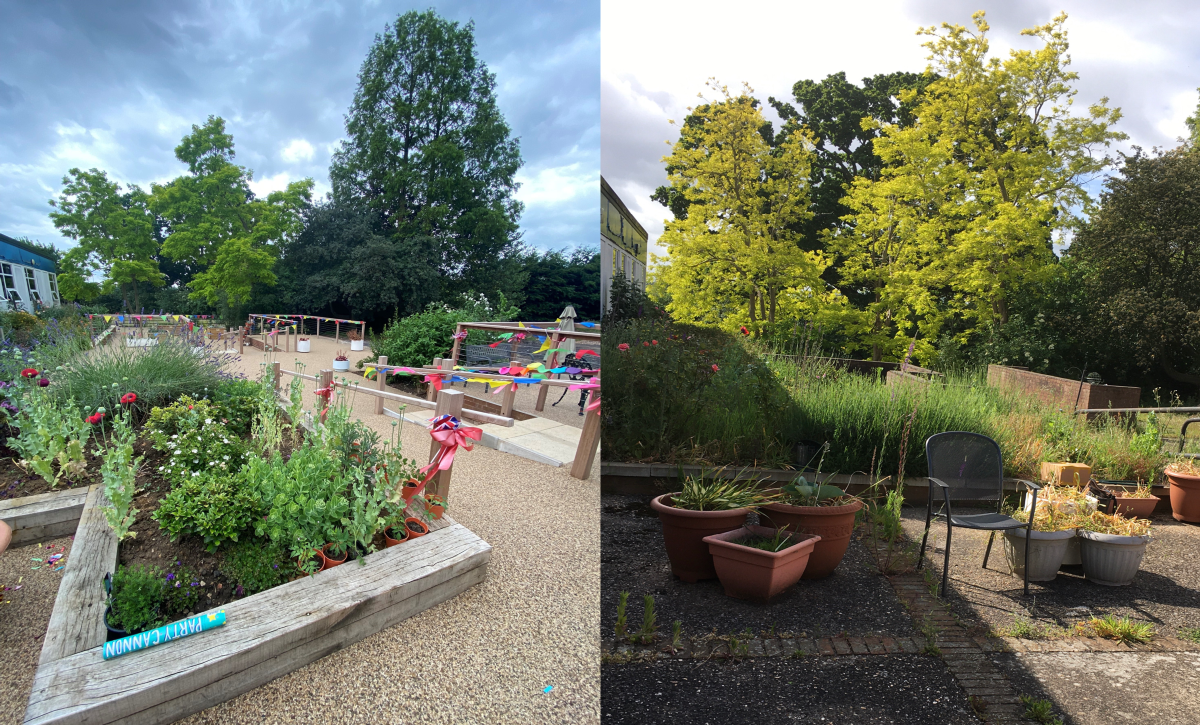 Patients and colleagues at the Hazelwood Ward at Isebrook Hospital, Wellingborough celebrated the official opening of the newly refurbished garden on Friday (24 June).
Hazelwood Ward at Isebrook Hospital, which is managed by Northamptonshire Healthcare NHS Foundation Trust (NHFT), provides physical rehabilitation for adult patients following an acute illness, stroke or a deterioration of a long-term condition that needs community hospital inpatient level treatment and support prior to going home.
The project was made possible through a collaboration of NHS property services, NHFT colleagues, volunteers, Northamptonshire Health Charity (NHC) and the Lions Club in Wellingborough. NHS Property Services supported the delivery of the £100,000 renovation project to fully support the needs of patients.
The new garden will provide a tranquil place for colleagues to work with patient to deliver specialised therapy to aid their recovery. As well as provide a reflective space for NHS colleagues to spend time in.
Liz Metcalfe, Therapy Lead at Isebrook Hospital, NHFT, on discussing the opening of the garden, said: "The impact that the transformed garden has had on the patients at Hazelwood has been remarkable. Doing therapy in the garden has already made a tangible difference to people being able to engage and participate in their rehabilitation. We have seen physical improvements in patients strength, balance, ability to walk, but also in their enjoyment and wellbeing."
Patients are already benefitting from spending time in the garden working with NHFT specialists to participate in tailored-therapy. Liz continued: "We have also seen people with cognitive impairments enjoying the sensory garden, being able to touch and smell the herbs has prompted reminiscence and memories with visible improvements to their wellbeing."
Patients have remarked: "'being in the garden makes me feel confident; it is a chance to chat; it is calming."
Colleagues from NHFT were joined by patients and representatives from NHC for the commemorate opening of the garden, which was officially opened by Jean Knight, Chief Operating Officer and Pat Cataldo, Ward Matron. A memorial bench was unveiled in memory of Lynsay Randall who sadly passed away last year and was a nurse on Hazelwood Ward for many years. More than £400 was raised at the event which will go towards garden potting tables to enhance staff and patients wellbeing.
The garden has been a collaborative project with the Lions Club Wellingborough arranging for three large planters to be built for the sensory area of the garden, complete with providing soil and all the sensory herb plants for the patients to smell, touch and taste. NHFT volunteer gardeners Jan and Jake Randle have spent many hours making a difference, planting and constantly weeding to making the whole area look as beautiful as does now.
There are plans to extend the garden as part of phase two which will see further collaboration between local organisations and provide a large outdoor space for rehabilitation. To keep up to date with latest news from NHFT, visit: www.nhft.nhs.uk/update