Mental health support
For local support and services give one of our friendly mental health navigators a call, anytime of the day or night:
0800 448 0828 - Lines available 24 hours a day, seven days a week or visit the website here.
If you have questions or concerns around employment, financial worries or queries or further information on benefits, our IPS (individual placement and support) employment advisors are here to help during this time. You can contact them today via the Integrated Response Hub number listed above – they are usually available 8am to 6pm daily, or you can arrange a call back outside of these times
To access mental health support online please visit our IAPT service. Here you can complete an online referral form (where you can also request an interpreter if needed) as well as complete programmes online via our SilverCloud portal. Please note: both these options allow individuals to interact without using the telephone, and then appointments can be made via text or email.
Adult mental health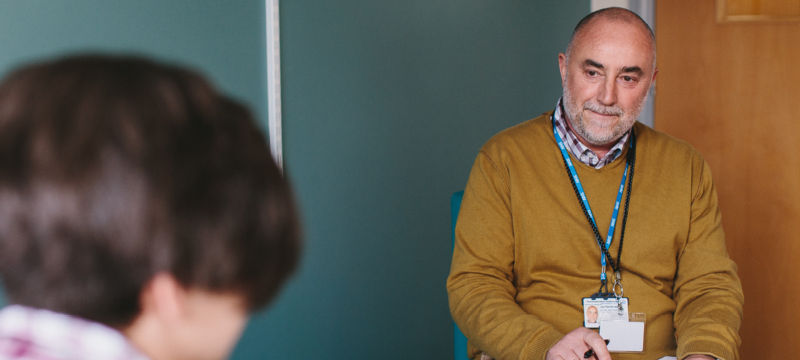 Keep safe scheme
The Keep Safe Card is a countywide scheme which helps people with a disability, condition or illness, which may make them vulnerable, feel safe and access help more easily when out and about.
The Keep Safe Scheme was initially launched in 2011 for people with learning disabilities. It proved a popular way for card holders and their families to feel safe when they went out from their home.
It has now been expanded to include people with other disabilities and ilnesses and Northamptonshire Healthcare Foundation Trust has become a partner in the initiative.
The scheme encourages anyone who believes they would benefit from being a card holder to register. After completing an application form they are provided a Keep Safe Card, which holds details about the person's needs as well as contact details for people close to them, such as family or carers, who can be telephoned in an emergency. The card also gives an idea of how best to support and communicate with the card holder.
If the card holder feels unsafe or needs assistance, they can show the card to a member of staff wherever they happen to be - in shops, libraries, leisure centres etc. The Scheme has been widely publicised to ensure as many staff as possible in such premises are aware of it and able to respond. Cardholder information is also held on a secure database by the three emergency service, who can access the information to ensure their staff are able to support the person in the best possible way.
To sign up for a Keep Safe Card or for more information please visit the Keep Safe website www.keepsafenorthants.org
Adult mental health road map
We are delighted to share with you our latest roadmap for adult mental health services which includes new service provisions and highlights journeys patient or service users may take when accessing our services.The aim of the roadmap is to simplify the user journey through our services and to help reduce any worries or doubts for our patients, service users, their families and carers. We understand the journey may be confusing; however we hope through using this visual tool to help explain to patients and their families the alternative services available, this will help create more of an understanding to those accessing our services.
There is also a focus on the services which individuals can access themselves, without the need for a referral from a healthcare professional. These are highlighted in the purple circles and include; Primary Care Liaison Workers, Crisis Cafes, Improving Access to Psychological Therapies (IAPT) and Mental Health Wellbeing Navigation Team.
More information on all of the services included on the roadmap are detailed on the back page and provides a breakdown of what patients / service users can expect if they are accessing these services.For further information on the services listed on the roadmap, please click on the service name listed on the left.
To view the full document please click here: Adult Mental Health Pathway Road Map