Our Consultants and Professionals
Our consultants directory contains profiles of consultants that work at NHFT on a permanent basis. Please note not all consultants have photos available due to patient confidentiality.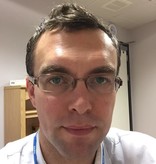 Job title
Consultant Psychiatrist
Service
inpatient Older Peoples Psychiatry
Special interests and treatments
Scott is a Consultant Psychiatrist at The Forest Centre in Kettering. He graduated in Medicine from the University of Sheffield in 2000 and completed his specialist Training in 2011. His Primary clinical and research interests are in the areas of Old Age Psychiatry, Clinical Governance and Medical Education. He worked in Australia between 2015 – 16 having previously worked for 15 years in the UK NHS, returning to work in the UK in August 2016. Scott holds a postgraduate Certificate in Medical Education, awarded in 2008, and currently holds the title of Senior Lecturer at the University of Queensland School of Medicine. He is passionate about patient-centred care and advocacy for vulnerable groups of society. In his spare time Scott is a keen cyclist and all-round sports fan. He is also passionate about music, art and family life.
Main location
Forest Centre, St Marys Hospital
Record last modified